Jazz at Lincoln Center, in the Rose Theater, witnessed a very special meeting which occurred on-stage between two legendary jazz pianists, Chucho Valdés and Chick Corea. Both musically prolific, and having won more than 30 Grammy and Latin Grammy Awards combined while redefining modern music in the process. Chucho Valdés hugged and shook hands with Chick Corea after Valdés initial solo performance. Clearly there was mutual admiration but also the recognition of a lifetime, for both, of setting standards in compositions, arrangement and creating new directions in jazz. They were to play together this evening for the first time on stage. 
Valdés whose career spans 50 years, as jazz pianist, bandleader, composer and arranger was also the catalyst in the merging of Afro-Cuban music with jazz. Winner of six Grammy Awards and three Latin Grammy Awards, Valdés is also a master pianist with astonishing technique and brilliant cross-cultural innovations in phrasing. Moving beyond the traditions of his native Cuban musical roots, Valdes' Grammy Award winning group Irakere and self-titled 1980's release Irakere( Columbia, 1979) created a "seminal music laboratory" mixing elements of Afro-Cuban music with jazz in a big band orchestra format. In conjunction with the group's anniversary tour of 2015, Valdés released a Grammy-Award winning album Tribute to Irakere: Live at Marciac (Jazz Village, 2015). Valdés is returning to an older music project, Jazz Batá, which continues his search for "roots of Afro-Cuban music and his deeper Cubanization of jazz and the classic piano jazz trio."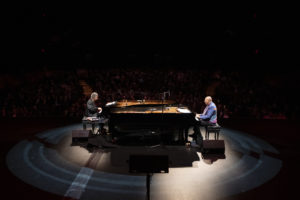 In a recent interview with translator, Valdés talked about his Afro-Cuban fusion changing creation, Irakere, as a band and a concept. "The point of departure" for him, was the intention "to create a different gender of music, never with the expectation of such a global explosion." Crediting earlier Cuban musicians Mario Bauza , Frank Grillo "Machito" and his father Bebo Valdés with the rhythmic and percussion elements that allowed Valdés "to start putting them together with jazz elements and starting to experiment." 
Chick Corea, NEA Jazz Master, 22-time Grammy Award winner, keyboard virtuoso as jazz pianist, composer and arranger has earned by contribution and respect all the accolades, awards and recognition deservedly of a legendary jazz giant. Corea's range of solo compositions, collaborations and cutting-edge bands, including the seminal jazz-rock fusion group Return to Forever in the '70s, the Elecktric Band in the late '80s and now, at 78, the electric/acoustic band Vigil, touch on the breadth of his contributions. 
Finding this moment on stage together for the first time came about as Chucho Valdés was scheduling this performance at Jazz at Lincoln Center. When Valdés was asked by the organizers of this performance, "If you could play with any artist with whom you've never played before, who would you pick?" His answer, "Chick Corea," which set the stage for an un-forgettable concert. 
When Chucho Valdés took to the stage for the evening's performance, with an ovation, he wasted little time in joining the piano and showing his renowned fleet-fingered dexterity and command of the keyboard. Choosing a broad improvisation of styles both Cuban and rhythmic, but also incorporating a stride style of playing, he wowed the crowd with two opening pieces. The audience was treated to a seminar in piano techniques with many runs up and down the keyboard, and flourishes, but always a return to chordal accompaniment.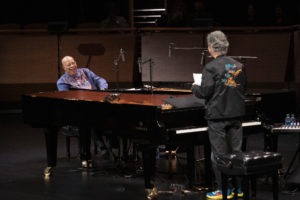 A surprise change in format of the evening then brought Chick Corea to the stage as Valdés exited. Corea had been asked by Valdés to perform several solo pieces before they would join each other for the second half of the concert. Corea played a lush and profoundly interpreted version of Duke Ellington's "Sentimental Journey." Then changing directions in time periods, Corea chose his composition "Yellow Nimbus" from his Flamenco-music influenced release Touchstone(Warner Records, 1982). 
Before playing, he shared his desire to dedicate this piece to a "brother" in the audience, John McLaughlin, seminal jazz-rock fusion guitarist and legendary founder of The Mahavishnu Orchestra. Launching into this composition, with the flavor of Latino rhythm and quick changing keyboard pace, all the elements were there for the pulse of a flamenco dancer. 
As Corea took a bow with wide smile, he looked to the side of the stage enthusiastically beckoning Chucho Valdés to join him. With applause and both musicians embracing, they took their seats at matching Steinway pianos, starting with a classic Cuban-based composition featured by Valdés entitled "Mambo Influenciado," made famous by a collaboration with soulmate and seminal Cuban jazz trumpeter Arturo Sandoval. Jubilant and ever upbeat, both musicians exchanged their chops back and forth, carrying off a rendition that was only missing the driving percussion beat on the popular recording.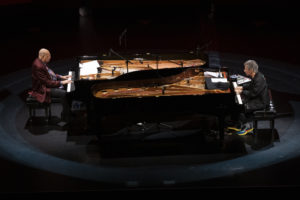 Stepping back to bebop and blues, and jazz pianist Thelonius Monk's favorite composition "Blue Monk," both Valdés and Corea seemed giddy with the play and timing of this old time, New Orleans—style, blues melody. Exchanging and sharing back the re-occurring blues progression, there was a wonderful feeling and groove to this timeless Monk standard, with stellar punctuation on the keyboards by both legends. 
As they stood together, taking their bows to an ovation of applause from an enthralled audience, both Valdes and Corea knew they'd have to play one more. Corea started the intro to "Armando's Rhumba" from his release My Spanish Heart(Polygram Records, 1976) and most of the audience seemed to know it, and the infectious beat, minus the hand claps on the recording keeping time with the driving Spanish/Latin rhythm.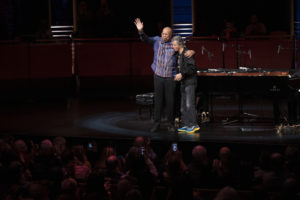 This evening's performance was true to the roots and boundary-crossing blend of Cuban, Afro-Cuban, and jazz traditions. Both performers, as seminal influences in this direction, were sharing and showcasing their legacy of redefining different corners of jazz and modern music. 
Photo credits Ayano Hisa