As any jazz archivist can attest, filming records in the smoky nightclubs with dimly lit stages, where many jazz & blues musicians performed, were sometimes all that history had as a record. Housed in a modular cabinet, are 400 hours of music, 96 exclusive interviews and 20 yearbooks. Inside 'The Jazz & Blues ART Box' – it is this type of storytelling that brings alive the behind the scenes aspects of jazz history." – Doug Hall
The roots of jazz, according to many sources (scholars, musicians and jazz aficionados) derives from a "union of African and European music". Connecting the American origins of the birth of jazz music dates back to New Orleans about 100 years ago – and its most important originator Louis Armstrong. Fast forward to the present and we have a rich history of musicianship that has driven this particularly American-based genre of sound. And before jazz – the blues, an origin that dates back to, historically, and generally accepted as, evolving from "African spirituals, chants, work songs, field hollers, rural fife and drum music, revivalist hymns and country dance music."
But in the modern age of the 20th century, particularly post WWII, the "live" performance of both jazz and blues was the way to reach greater audiences and truly let the music and musician express themselves and "improvise" and "take it" to the audience, "at the moment." We know the "big" names for premier festivals in the U.S. such as the Newport Jazz Festival, The New Orleans Jazz and Heritage Festival and the Monterey Jazz Festival. But how about the International Jazz Festival Bern, Switzerland? For 40 plus years of "hard swinging", the founder Hans Zurbrügg has been delivering a commitment to a purist form of jazz shared by icons such as Dizzy Gillespie, Oscar Peterson, Sarah Vaughn, Sonny Rollins and contemporary legends Wynton Marsalis, Marcus Roberts, Christian McBride and Diana Krall. Now – picture a collection of 20 years of impeccably recorded and on-stage filming (by Swiss Television) of seminal performances by these jazz greats followed-up with off-stage interviews – where these pioneers share thoughts about their life, their music and the expression of jazz music itself.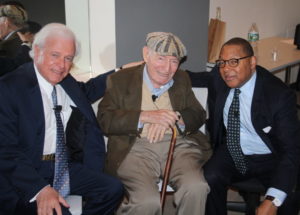 Hans Zurbrügg, Founder and producer of the International Jazz Festival Bern(Switzerland) has just announced release of 'The Jazz & Blues ART Box', a collection of 230 DVD's, in a fully functional and accessible 3 drawer cabinet, that includes DVD's, yearbooks and an art book. On-board with enthusiasm and helping to present and promote the uniqueness of this collection are other legendary members of the jazz community including George Wein (founder and artistic director of the Newport Jazz Festival), Wynton Marsalis (trumpeter, composer, and artistic director of Jazz at Lincoln Center) and Hank O'Neal (photographer, author and music producer). From 1983 to 2002, the International Jazz Festival Bern was televised and broadcast by Swiss Television, resulting in this remarkable record -both visually and auditory – archiving what Hank O'Neal calls the "most remarkable collection of jazz and blues performances on video ever assembled."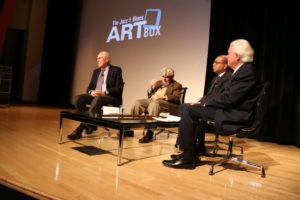 Mr. Zurbrügg's – commitment as a musician (trumpeter) and passionate promoter, and noted entrepreneur would take his jazz festival along the steps, from a fledgling beginning in the 1960's to what would become "one of Europe's great jazz festivals." Reflecting on his early days in Bern, Wynton Marsalis recalls, "This festival stood out as one of the few that embraced the integrity of Jazz when many others proudly and successfully expanded their festival audience by selling a watered-down roster of non-jazz." By 1976, Mr. Zurbrügg would be the founder and producer of the Bern Festival, and creating a line-up year after year that would include the seminal names in jazz on stage including Oscar Peterson, The Modern Quartet, Sonny Rollins, Dave Brubeck, Sarah Vaughan, Art Blakey, Joe Williams, Clark Terry, Benny Carter, and Gerry Mulligan. This is just a taste of the full line-up of filmed recordings in this collection of stellar musicians at the height of their creative abilities – caught live for all future listeners and historians to enjoy and to serve as an educational history for this unique genre of music.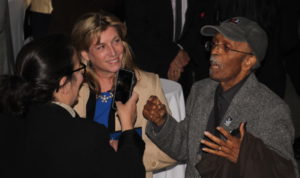 As any jazz archivist can attest, filming records in the smoky nightclubs with dimly lit stages, where many jazz & blues musicians performed, were sometimes all that history had as a record. Mr. Zurbrügg took this to heart and pursued an agreement with Swiss Television to record every performance at his festival. But most importantly, Mr. Zurbrügg ensured a standard excellence and caliber of recording, "It was determined that the concerts would be filmed with full production values, with the highest quality technological standards of the era." As many of these legendary musicians have not only long since left the stage, but also have passed into history, "The Jazz & Blues Art Box" now remains a very critical record of performance and also interview.
At the World Premiere of "The Jazz & Blues Box", (NYC, June 8, 2017), in just one example, in interview, I listened to Art Blakey (of Art Blakey and the Jazz Messengers) tell his story about his beginnings, moving from the piano to the drums in a Chicago club, operated (by his own admission) by the "mob", and how he was un-ceremoniously told to vacate the piano seat and accept his next job as drummer. This, again, is an interview moment that would be lost without this vital collection. Blakey, of course, would go on to be an extraordinary performer and contributor as bandleader and mentor for many upcoming jazz leaders like Wynton Marsalis. It is this type of storytelling that brings alive the behind the scenes aspects of jazz history. In fact there are 96 individual un-released interviews in this collection, as stated by Wynton Marsalis, "Hans Zurbrügg went a step further and convinced Swiss television to record and broadcast interviews…the most important jazz legends provide an in-depth insight into the life and musical heritage of Jazz & Blues culture."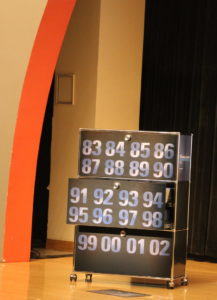 Housed in a modular cabinet, with three drawers, on caster wheels, designed exclusively by Swiss manufacturer, USM, are 400 hours of music, 96 exclusive interviews and 20 yearbooks (and one large format book). Touches of modern art affects are finished-off by legendary graphic artist Roger Pfund. This small footprint reveals a treasure of recordings, which Hans Zurbrügg refers to as a "collection of historical value." At the World Premiere in New York (June 8, 2017), all attendees were given a numbered ticket that coincided with one of the DVD's in the "The Jazz & Blues Box". As I approached to receive mine, I felt, as certainly everyone else did in the audience that night, that this was a "lottery" ticket where every selection was a winner.