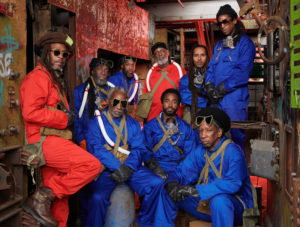 When Bob Marley, the legendary reggae musician and spiritual leader of this Caribbean-based music, hit the UK and US charts in 1970's, there was a wave of inspired Jamaican bands following on his popularity. Toots and the Maytals, Pete Tosh, Third World and Burning Spear also brought their version of this heavy rhythmic-driven, vocally soulful and spiritually-powerful music to the air-waves of progressive American and British radio stations during the 70's and 80's and recording contracts with Island Records.
Coming from an Afro-Caribbean immigration to England in the 1950's and 60's, was a more urban-based militant, politically-based band – Steel Pulse, with founding members Basil Gabbidon and David Hinds inspired to action after listening to Marley's "Catch a Fire" in 1975. Fronted by Hinds, the lead vocalist, rhythm guitarist and the group's potent bold lyricist, Steel Pulse would take direct hits at issues of global racism, social injustice, political corruption and tyrannical governments, reacting locally as well to the plight of urban black youth in their home city of Birmingham, UK.  Songs such as "Ku Klux Klan", "Earth Crisis", "African Holocaust", "I Can't Stand It" and "A Who Responsible" would establish a reputation, as stated by Hinds in a recent Berkshire Fine Arts interview, of "naming names."
Performing Saturday night at the Cabot Theater in Beverly, to a packed and "on your feet" audience, Hinds(vocals, guitarist) and longtime bandmate Selwyn Brown(keyboardist) kept the edge to their message of social and political outrage front and center, as the evening featured there first release in over a decade, entitled Mass Manipulation(2019, Rootfire Cooperative / Wiseman Doctrine).
Hinds and the remaining band mates of Steel Pulse took the stage and owned it, first moving to the still relevant messages of early Steel Pulse classics like "Wild Goose Chase" about our destruction of the Earth, through man's technology, and with Hind's refrain "who shall save the human race" getting the crowd chanting in unison. Powering into "Drug Squad" with reference to racial profiling at airport security and then "Babylon Makes the Rules" carrying a message of Rastafarian spiritual belief – which had, by this time, most of the audience on their feet by their seats swaying along with a packed center dance floor.
Touring on their first label recording release in 15 years, Hinds and band dug into cuts from Mass Manipulation(2019, Rootfire Cooperative / Wiseman Doctrine) which included "Stop You Coming and Come", a mythical take on secrets of an African dynasty unmasked, and "Cry, Cry Blood" with impassioned vocals about the impoverished and suffering in the world, and political finger pointing at corrupt government leadership regardless of its race with "Black and White Oppressors."
In conversation with Berkshire Fine Arts, Hinds spoke about the personal and passionate impact of Marley's Jamaican-based reggae and world influence. But he was quick to state that Steel Pulse was coming from a very different political and social urban environment experience – one of specific suppression and prejudice from an educational, policing and judicial system that was all British. Hinds said boldly, "Very rarely did Marley(or reggae bands in Jamaica) call out and name people – it was more often "They" or "Them" and "Us" and Ours". From the very beginning of Steel Pulse, Hinds declared, "We (Steel Pulse) said 'Hey' we didn't have any fear in calling-out the name  – be it the Ku Klux Klan or the National Front in Britain – we call them out."
David Hinds and longtime bandmate Selwyn Brown did not compromise on this coda in their latest release Mass Manipulation or the set of songs at the Cabot Theater Saturday night September 7th. Clearly a voice and message that has not mellowed, and true to a mission that Hinds says is " to speak universally about pain and suffering – we will call out injustice – that's what we do!" Amen.