The 65th Anniversary Newport Jazz Festival continued an established tradition of delivering an exceptional level of high quality musicianship. Over the three fully packed days (and one special evening at the International Tennis Hall of Fame) from August 2nd to 4th, an amazing range of talent was on stage, from debut performances of up and coming artists, to the famed legendary veterans still bringing their muse, and all playing their hearts out.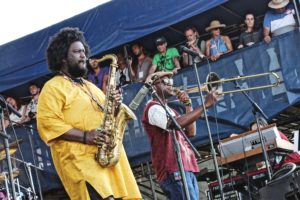 The standard bearer of the NJF, George Wein, at 93, the founder, original artistic director, and now the chairman of the Newport Festivals Foundation, is still very much present and engaged in the critical role of supporting, educating and promoting this vital art form, that is truly and uniquely American. 
Moving from stage to stage, Wein still made his presence known at the Newport Jazz Festival and was recognized, cheered and genuinely appreciated by audiences and acknowledged in tribute by performing jazz musicians, many of which had their first major stage opportunity at Wein's festival.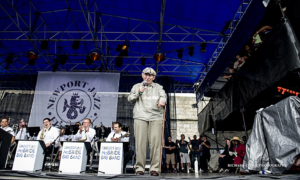 Ever the impresario, Wein made the rounds—introducing the festivals Artist-in-Residence, the legendary veteran jazz composer and keyboardist, Herbie Hancock (who would perform two separate sets this weekend), then moving on to help support a book discussion with Maxine Gordon, who was sharing her life as wife and partner of seminal saxophonist Dexter Gordon in her book, Sophisticated Giant: The Life and Legacy of Dexter Gordon—just released. Wein was back again Friday night, August 2nd, at the International Tennis Hall of Fame, still going strong, to share a few words on stage about his special guest Jon Batiste, the New Orleans' jazz pianist and band leader of The Late Show with Stephen Colbert, who would be perform that evening with his band "Stay Human" and include other extraordinary musical friends. 
Wein's successor as Artistic Director since 2017, Christian McBride , award-winning up-right bassist, composer, educator, and band leader—has put his stamp on this year's lineup, adding an incredible mix of diverse musicians. A superbly multifaceted musician with boundless energy and always a smile, McBride has included himself in a variety of band performances at the Newport Jazz Festival since his newly appointed role by Wein two years ago. At this year's festival McBride joined stellar legendary jazz keyboardist Herbie Hancock and esteemed session drummer Vinnie Colaiuta on stage for an intense set of innovations from a range of Hancock compositions from Maiden Voyage (Blue Note, 1966) to Head Hunters (Columbia, 1973) and opening with Wayne Shorter's classic standard "Footprints."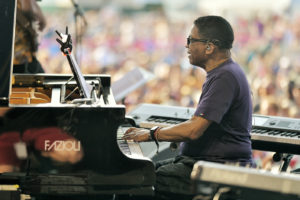 The festival's line-up again would not disappoint jazz aficionados and newcomers alike with a range of diversity and depth of talent, both young and old, taking listeners from classical straight ahead jazz (Ron Carter's Trio) to experimental (Sammy Miller and the Congregation) to the funky R&B mix with jazz (Thundercat) back to the bebop sound and vocalist harmonies of the big band era (The Royal Bopsters, featuring vocalist Sheila Jordan) and then to original orchestral compositions performed by an 18 piece band (Darcy James Argue's Secret Society).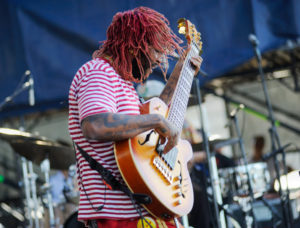 The Artist-in-Residence for this year's event was Herbie Hancock, returning for the second time since 2014, an icon of the jazz world in every dimension, in addition to 14 Grammy awards and accolades: merging musical genres, exploring directions from the Miles Davis Quintet to avant-garde releases such as Empyrean Island (Blue Note, 1964) and on to funk and soul, Head Hunters (Columbia, 1973) and then electronic pop on Sunlight (Columbia, 1978) to jazz takes on contemporary songwriting with the multi-Grammy Award winning release River: The Joni Letters (Verve Records, 2007)—a collaboration with close friend and songwriter Joni Mitchell. Also winning an Oscar in 1986 for scoring the film Round Midnight based on famed jazz saxophonist Dexter Gordon's performing life in Europe.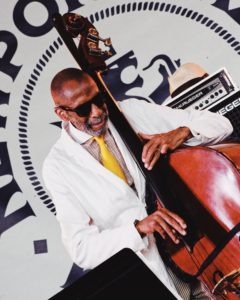 Further expanding his renaissance range, in 2010 Hancock released the critically-acclaimed CD, Herbie Hancock's The Imagine Project (Sony Music, 2010), winner of two 2011 Grammy Awards for Best Pop Collaboration and Best Improvised Jazz Solo. Utilizing the universal language of music to express its central themes of peace and global responsibility, this release was recorded around the world and features a stellar group of musicians. 
At the main stage Friday afternoon August 2nd he received a hero's welcome from a giant crowd of jazz enthusiasts, many of which were heard talking about all the different periods and chameleon-styles they'd heard Hancock embody. The set featured cuts from an eclectic range of recordings including high powered funk from Head Hunters(Columbia, 1973) with Hancock moving from Steinway piano to Moog synthesizer and then to electronic pop with a cut from Sunlight (Columbia, 1978). With a veteran band including James Genus (bass), Lionel Loueke (guitar and vocals), Terrace Martin(keyboards and saxophone) and Vinnie Colaiuta (drummer)—there was an intense tempo generated. A special guest appearance by 24 year old flutist Elena Pinderhughes added depth to the performance as she soloed and sang with beautiful tone and range. Taking control from his band on stage, throughout the set, clearly the master's abilities had not diminished at 79 years of age.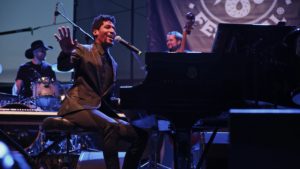 Another highlight for this years festival was the Friday evening performance at the International Tennis Hall of Fame featuring Jon Batiste, the New Orleans' jazz pianist and band leader of The Late Show with Stephen Colbert, who performed that evening with his own band Stay Human and included other extraordinary musical friends, including Batiste's mentor and acclaimed jazz concert pianist ELEW (formerly Eric Lewis), 2007 winner of the Thelonious Monk Jazz Piano Competition, and also Ethan Iverson, jazz pianist of the modern jazz trio The Bad Plus, and for the 2nd set, jazz vocalist Corinne Bailey Rae and PJ Morton, keyboard player for Maroon 5 and Grammy award and Dove award winner. 
After Batiste took the audience through a version of "America the Beautiful" on solo piano, he took his band Stay Human on a ride through a medley of "Kindergarten" from recent release and then Monk's "Green Chimneys," finishing with Louis Armstrong's "Sweet Georgia Brown." A tribute to Billy Strayhorn and Duke Ellington followed with a rendition of "Take the A Train." The first set also featured a beautiful and elegant original piano composition by Ethan Iverson titled "Showdown." Baptiste introduced a new song, "Creative," just released on Anatomy of Angels—Live at the Village Vanguard (Verve, 2019). 
Taking to the stage next with ELEW, both pianists seemed to be in synch as they challenged each other to a competitive duet (on matching Steinways), of complete improvisation, running 10 minutes as they launched from the Darth Vader theme from "Star Wars" to "My Favorite Things" from "Sound of Music" to Stravinsky and possibly the soundtrack for "Beverly Hills Cop." An amazing show of dexterity and command of the piano as instrument and vehicle for experimentation. A standing ovation from the audience followed. 
The 2nd set boasted performances by Corinne Bailey Rae, from England, Grammy-award winning singer, songwriter and musician and PJ Morton, New Orleans-based musician (keyboards), singer and songwriter (current band member of Maroon 5) and record producer. The evening's audience were held in a spell by the stage presence and beautiful vocals of Ms. Bailey Rae and the superb musicianship of PJ Morton. 
Jon Batiste's message of friendship and togetherness that night between all these gifted musicians on stage with him, carried a much higher meaning about a larger world better unified then divided. 
If there was an overall theme for this year's festival, as suggested by Artistic Director Christian McBride, it would be vocalists, " Whether or not you're a jazz fan, almost everyone connects with a vocalist. And this year we're stacked with some of the greatest singers on the planet Earth." 
A Selection Of Highlighted Vocal Performances
Kandace Springs: Fresh on the heels of critically acclaimed release Indigo(Blue Note, 2018), crossing genres (covering her hero Norah Jones, Prince and Nina Simone), Springs brought the expectant NJF crowd a soulful and classy vocal sound. Springs took to the stage with her own jazzy interpretations of Roberta Flack's "First Time Ever I Saw Your Face," and Stevie Wonder's "The World is a Ghetto," which were both crowd pleasers. Changing genre, Springs powered into Oscar Peterson's "Chicago Blues" and showed off her piano chops. Several other piano and voice-based songs rounded-out a full range for her exceptional, passionate vocals.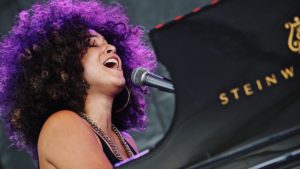 Corinne Bailey Rae: A British singer and songwriter from England, Bailey Rae has won several Grammy awards including Album of the Year (2008). Her release of The Heart Speaks in Whispers(Virgin, 2016) rose to #2 on Billboards R&B chart. Taking the main stage, Bailey Rae started her set with "Trouble Sleeping" harking back to her self-titled release. Gifted with a naturally rich, gorgeous voice, reminiscent in range and sensuous tone to Diana Ross, there was an authenticity to the emotion she delivered. Her band, Steve Brown (keyboards), Johnny McCallum (guitar) and Myke Wilson(drums) carried a full groove and driving rhythm, accompanying her heartfelt songs.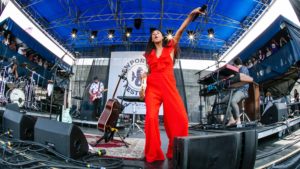 Concha Buika: Daughter of African parents, and growing-up in Spain, Buika immersed herself in the multi-culturalism of music without boundaries in the Mediterranean. The New York Post stated recently, "A singer like Buika comes around only once in a generation." With a husky, layered and imperious voice, "something like Nina Simone's but more flexible and virtuosic" (The New York Times), Buika astounded the audience at the main stage at the Newport Jazz Festival. She began with a vocal solo that was part individual poly-rhythm chant and then refrain with a deep powerful voice belting-out a totally emotional commitment. She owned the audience from that moment forward. Sharing further songs from her past releases, and improvisations of her own choosing as well as songs from her latest release, Vivir Sin Miedo(Warner Music, 2015), Buika garnered many new fans. 
Dianne Reeves: Five-time Grammy winner and considered by fellow musicians and critics alike to be the pre-eminent jazz vocalist in the world. She receives accolades for her "breathtaking virtuosity, improvisational prowess, and unique jazz and R&B stylings." On the main stage, Reeves had an incredible, forceful presence, with an effortless strength and passion to her vocal interpretations. She covered Stevie Nicks' "Dreams" with particular emotional emphasis on the line "players only love you when they're playing" and then found the range for a soaring and impeccable version of Pat Metheny's composition "Minuano (Six Eight)" which was made famous by South American vocalist Pedro Aznar. Amongst other pieces performed, she made a particular song dedication to vocalist Buika, "I thought I would wake-up from a dream and sing like Buika-but that didn't happen—but here's my dedication anyway." With a natural rapport with the audience, Reeves was candid, funny and engaging along with delivering a knock-out performance.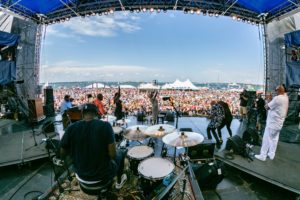 Dee Dee Bridgewater and the Memphis Soulphony: Over the course of a multifaceted career spanning four decades, Grammy and Tony Award-winning Jazz giant Dee Dee Bridgewater has ascended to the upper echelon of vocalists, putting her unique spin on standards, as well as taking intrepid leaps of faith in re-envisioning jazz classics. Ever the fearless voyager, explorer, pioneer and keeper of tradition, the three-time Grammy-winner most recently won the Grammy for Best Jazz Vocal Album for Eleanora Fagan (1915-1959): To Billie With Love From Dee Dee(DDB Records, 2009), a tribute to Billie Holiday. Boarding the main stage on a hot afternoon, Dee Dee Bridgewater's energy, vibe and smile brought the audience's attention, front and center. With a stompin' 8 piece band, Bridgewater talked to the crowd around the main stage like they were intimate friends, and then played a heartfelt version of R&B classic "Soul Finger" by the Bar-Kays from Stax Records, showing off her own style and swagger. Moving to blues, she took the tempo down a notch to re- interpret her own version of Howlin' Wolf's "Going Down Slow." And amongst other covers, soulfully rendered Gladys Knight and the Pips' "Giving Up." A classic demonstration of owning the stage and keeping it. 
Emerging Talents And New Bands
The Newport Jazz Festival has always drawn top-drawer acts and acknowledged musicianship, but the festival's strength has also been to introduce emerging talent and to re-introduce hybrid bands that showcase again established talent that is coming at the audience in a different musical direction. Two performances, in that vein, stand-out in particular. 
Joel Ross: Chicago native Joel Ross has performed with historic and seasoned artists—Herbie Hancock, Louis Hayes, Christian McBride, and Stefon Harris—as well as with cutting-edge contemporaries like Ambrose Akinmusire, Gerald Clayton, and Marquis Hill. Twice selected as a Thelonious Monk Institute National All-Star and a 2013 Young Arts Jazz Finalist—he's also had the opportunity to perform at the Brubeck, Monterey, Seattle, and Chicago Jazz Festivals—and-at internationally-celebrated venues like Dizzy's Club Coca-Cola in New York, SF JAZZ in San Francisco, and Club Vibrato in Los Angeles. 

With his debut performance at the Newport Jazz Festival, following-on much talked about sensational buzz around this 23 year old, Chicago-born, Brooklyn-based vibraphonist, Joel Ross brought his quintet fresh from a European tour. Taking time to work-in a soft jazz tempo piece which featured a solo from pianist Jeremy Corren, the audience settled into a listening mode that allowed a quieter set of instrumentation. Ross shared the title cut from a new recording Kingmaker(Blue Note, 2019), sounding both sly and mysterious, as each band member shared the musical sentiment back and forth. Saxophonist Immanuel Wilkins was especially noticed by listeners, as he played soft melodic tones during several interludes of songs. Ross, a formidable talent on vibraphone, later in the set demonstrated a beautiful resonance in a solo piece that brought some people out of their seats with applause. Clearly a bright future lies ahead for this musician and the often overlooked vibraphone in the current jazz scene. 
Jenny Scheinman and Allison Miller's Parlour Game Quartet: In their latest endeavor Parlour Game, violinist Jenny Scheinman and drummer Allison Miller dig into the rootsier elements of jazz along with the formidable pianist Carmen Staaf and bassist Tony Scherr. The repertoire explores swing, gogo, backbeats and ballads. Scheinman and Miller are both artists with eclectic backgrounds having collaborated with such diverse musicians as Bill Frisell, Jason Moran, Lucinda Williams, Natalie Merchant, and Renee Rosnes. In Parlour Game they explore the classic format of the piano quartet and strive for excellence in simplicity—the perfect groove and a melody that sticks. 

With a decades-long musical bond between Scheinman and Miller, an exciting dynamic was immediately clear to the audience under the Harbor tent at NJF, with a give and take between drummer and electronic violinist that had vital chemistry for the set. With a newly formed quartet, Scheinman set a pace for the band to follow on stage with a Ponty-like soaring violin presence. Drumming sparks and timed emphasis came regularly from Miller, punctuating with loud exclamations. Several cuts from their recent release were introduced and a particularly surreal song by Scheinman, entitled "Sleep Rider" created a slow trance-like moan on her violin. To mix it up, Parlour Game showed they could do a little country romp, straight-up blues and jazz swing. A solid imaginative set re-introducing the electronic violin as a lead instrument, front and center, in very capable hands.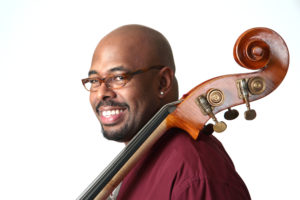 Closing Thoughts
Fortunately for jazz listeners and performers alike, both Wein and McBride are keeping their musical ears and eyes open, peering ahead to the horizon for new talent and artistry. As Wein warmly reaffirms his choice of successor, he says that McBride will serve "as the beacon for future Newport Jazz Festivals." Wein and McBride have delivered a stellar line-up again for this year's 2019 performances, but ultimately it is the audience that needs to keep this festival alive, to continue supporting the discovery and journey of jazz, making a lasting vision to the legacy started by Wein over 60 years ago.