Maria Schneider, jazz pianist, orchestral composer and 2019 NEA Jazz Master, has just released a new double-album, Data Lords (artistShare, 2020), which creates poignant musical imagery about our data-driven world. Schneider, who has been an active advocate for musicians' rights and copyright, has followed-on this impact, citing "big data" companies as manipulators of music, culture and privacy. This collection of uniquely and emotionally rendered original compositions addresses the conflicting relationships between the digital and natural worlds, featuring Schneider's orchestra of 18 world-class musicians.
Not shy to point her finger at the mega-corporations that have control of our lives, Schneider relates her own personal suffocation, "As big data companies clamor for our attention, I know I'm not alone in struggling to find space—to keep connected with my inner world, the natural world, and just the simpler things in life." As is Schneider's trademark, the beauty and range of tones, complexity of compositions and exceptional featured musicianship, offer an extraordinary soundscape to support the potent lyricism.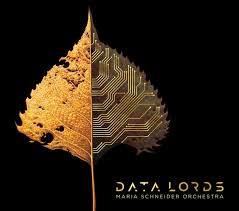 Data Lords is divided into 2 CD's, with the music on the first CD, The Digital World, focusing specifically on themes of an over data-driven world. Each of these compositions captures a distinct impact of our informational overload-driven society. "A World Lost" creates a mournful sound with guitarist Ben Monder and tenor saxophonist Rich Perry taking turns with musical angst. "Don't Be Evil" pokes at Google's original code of conduct motto with powerful and jarring solos delivered by Jay Anderson (bass), Ben Monder (guitar), Ryan Keberle (trombone) and Frank Kimbrough (piano). The close of the first CD is the title cut "Data Lords" which builds to a crescendo of sound with driving rhythms over-layered by tremendous solo outbursts by Mike Rodriguez (electrified trumpet) and Dave Pietro (alto saxophone).
The second CD, Our Natural World, finds Schneider creating an introspective, intense and physical landscape of nature, woven into an orchestral soundscape. Opening with "Sanzenin," a huge breath of serenity is taken with floating notes from Gary Versace on accordion, riding over a slow meandering melody of soft horns. Peace. "Look Up" is slow and measured in tempo, with brilliant accompaniment by Marshall Gilkes on trombone and Frank Kimbrough on piano, soaring with a harmonizing ensemble of other horns. "The Sun Waited for Me," the closing composition of the Our Natural World CD, delivers a positive celebration to the ears which grows out of solo lyrical melodies from Donny McCaslin on tenor and Marshall Gilkes on trombone.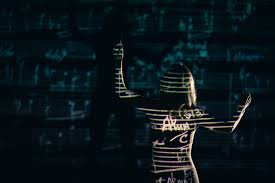 Schneider's Data Lords harnesses complex musical orchestration with originality of concept, running contrast between musical imagery of a data-hungry world versus a struggle to find human space. The inspiration found its way into the artist's life directly, "just as I feel myself ping-ponging between a digital world and the real world, the same dichotomy is showing up in my music." Ultimately Schneider succeeds in telling this story through the mood, tempo and arrangement of these compositions, with a cast of stellar musicians and a conviction to stay true to her advocacy.