If you look at all the accomplishments of musical prodigy Grace Kelly, (acclaimed jazz saxophonist, singer, entertainer, songwriter and composer) it doesn't immediately register that that she is just 25 years old. With a resume that includes a CD release (Dreaming in 2005) at 12, a special guest artist performance with Keith Lockhart and the Boston Pops 2007 Jazz Series at 14, and at 15 an invitation by

Wynton Marsalis

, in 2008, to play with

Dave Brubeck

for the "Let Freedom Swing/Celebration of America" concert as part of the inaugural festivities for President Obama—you begin to say more than "Wow!," and it doesn't end there. Currently having released her 10th CD Trying to Figure it Out (2016), which was voted #2 Jazz Album of The Year in the 2016 Downbeat Magazine Reader's Poll, Ms. Kelly went on to receive the award for "Jazz Artist of the Year" at the 2016 Boston Music Awards, and won the 2016, 64th Annual Downbeat critics poll for "Rising Star Alto Saxophone."
At an age when most jazz musicians are still trying to get their first breakthrough on stage, Ms. Kelly has performed over 800 concerts, in over 30 countries, most recently in Russia, this past December, with the Moscow Symphony Orchestra and then joining virtuoso saxophonist and jazz band leader Igor Butman for a special performance at his jazz club. Just in her early twenties, she has already performed, recorded and collaborated with: Wynton Marsalis, Dave Brubeck, Frank Morgan, Harry Connick, Jr., Questlove, Diane Reeves, Esperanza Spalding, Lee Konitz, Phil Woods, Danilo Pérez, Ron Carter and David Sanborn—and this is just a partial list.
But what is truly most remarkable and impressive about Ms. Kelly is beyond her stellar youthful accomplishments as a musician, the accolades, the awards and established talent. It is her—on stage or in person—a unique combination of passionate energy and infectious enthusiasm, all directed towards a driving desire to connect with her audience, sharing and expressing herself through her saxophone or voice—a calling, in her own words, "to be a healer through music, and uplift people."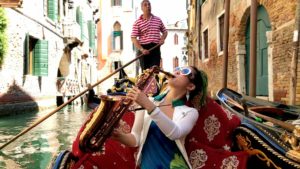 In addition to the natural gift of spirited and electric charisma on-stage, Grace Kelly's musical path follows a family heritage, from her grandmother, a classically trained pianist, to her mother Irene Kelly, who studied classical piano for 12 years. Kelly's grandparents took the unusual chance to move from South Korea to the US to enroll Kelly's aunt (Irene's sister) in the renown Juilliard School in New York City. With a tradition of strong classical music following from her mother's family, Kelly would begin piano lessons at six. Her mother Irene re-married Robert Kelly in 1997 and re-located to Brookline, MA. and the sound of music was never very far away. Kelly recalls listening to classical music recordings, Broadway scores and jazz—played regularly in her home, "it was an important part in my subconscious."
With the nurturing support of a Brookline Elementary School music teacher, jazz pianist Ken Berman, who as Kelly's mother Irene reflected, "saw Grace had this special talent," she was guided and her gift encouraged. Selected to be on stage in a local Brookline school performance event, normally reserved for 7th and 8th graders, at 8 years old, and still only in 2nd grade, Kelly delivered a voice and presence way beyond her age. Her mother was caught off-guard when Berman told her, "you need to start recording this." Mr. Berman then directed Kelly's parents to a recording studio (PBS Studio, in Westwood, Ma.), providing introductions to other musicians (including renown jazz bassist John Lockwood) to record some of the songs their daughter was writing. This gave birth to Grace Kelly's first CD, Dreaming (2005). "The CD release took place… when I was 12," Kelly recalls, "and as soon as I walked on stage, I realized that performing was my favorite thing to do."
A remarkable start to a journey that as a family has continued to be both a parent's love and support, as well as on the job training to help manage their daughter's career. Irene, her mother, talked about Grace's father Robert Kelly taking on that role down to driving Kelly to local gigs, picking-up lost band equipment at the airport and just getting to the show on-time (as Irene was working fulltime running a family boutique business in Brookline). Kelly reflected on her parent's commitment, once her decision was made to be a professional musician, "There's no straightforward way to create a career (in the music industry), no book that tells you what to do." In my recent conversation with Kelly, she kept emphazing how grateful she was to her parents "with so much that needs to be done on a daily basis." Fortunately, an incredibly close relationship exists in this family partnership that has allowed Kelly to "focus on the creative part."
Mentorship has also been a key musical relationship for Kelly as she shared with me the heart-felt appreciation and love she has for several very special professional and personal friendships in her life. At 12, Kelly would meet legendary jazz promoter Fred Taylor at Sculler's Jazz Club in Boston, and after hearing her version of "Over the Rainbow," Taylor's ear was caught, and bookings followed and a long bonding personal and musical relationship was begun.
A critical circle of musicians was also to have a profound impact on Kelly's career. A pivotal mentor was Lee Konitz, renown bebop saxophonist, who played with Miles Davis on Birth of Cool (1957), and an NEA jazz master, who worked with Kelly, at 16, recording the album GRACEfullLEE (2008), which garnered a 4 ½ star review from DownBeat magazine. Kelly reflected, "The biggest lesson that Lee taught me has been spontaneity, from day one," and Konitz responded by saying, Kelly is "all ears and all heart." Collaborations followed with Phil Woods, stellar jazz saxophonist (who toured with Gillespie and many other jazz legends) multiple DownBeat award-winning artist, and another NEA Jazz Master, recording together, Kelly's sixth album at 18, Man with the Hat(2011). And then a very close personal relationship with the late legendary jazz saxophonist Frank Morgan, who Kelly performed with and most recently helped promote the documentary The Sound of Redemption: The Frank Morgan Story (2014), fondly referring to Morgan as "almost a grandfather figure to me—we almost adopted each other." An "A" level of talented and inspired musicians and promoters which Kelly graciously acknowledges, "it's their lives, who they are as people—playing music next to them just takes on a bigger meaning."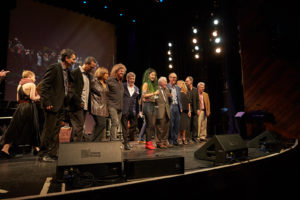 Recently stepping into a new role, on television, with regular performances alongside jazz pianist Jon Batiste on CBS with "The Late Show with Stephen Colbert," Kelly found herself developing a close collaborative relationship with the band leader. Batiste, a Juilliard-trained multi-instrumentalist, and his band Stay Human, are the house band for the show which will often feature Kelly in the line-up. Kelly talked about this musical connection, "I've learned so much from him (Jon Batiste), and genuinely loved his music and musicianship." Again, another musical partnership, and friendship, adding a branch of exposure, to an already burgeoning career.
As Kelly reflected upon all the friends (musicians and others) and family involved in her life, she has also stayed close to her drive to share her music and connect with listeners and audience and a wider world, as best put in her own words, "to add joy, light and beauty." You can't say it any better than that.
More upcoming dynamic events are scheduled for 2018. To accent audience inclusion and participation with her next recording, in her rule-breaking tradition, Kelly plans to preview part of her forthcoming album by streaming of a Facebook Live session to a worldwide audience. The event and entire session will be viewable on Facebook March 18th, 2018—exactly 13 years after Kelly, then 12, made her debut as a bandleader. "I want fans all around the globe to feel as if they're there for the conception and making of my next album," Kelly said.
Arrangements of the material will be worked out by the entire group, Kelly's touring and recording band: Julian Pollack on piano and keyboards, Julia Adamy on bass, synth-bass and background vocals and drummer Ross Pederson incorporating electronic technology and including sampling and pedals. This collaborative way of working, Kelly said, will allow the quartet to "keep it in the family and create a band sound -and that's brand-new territory for me." The selections to be streamed live will focus on "Grace-ified" arrangements of compositions by Duke Ellington ("It Don't Mean a Thing (If It Ain't Got That Swing)"), the Rolling Stones ("Miss You") and Ray Charles ("Unchain My Heart") along with some original vocal and instrumental compositions.