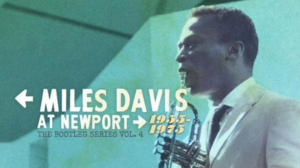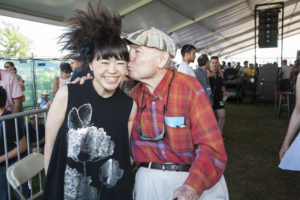 Miles Davis was not yet a household name in jazz in 1955 when he first appeared at the Newport Jazz Festival. In fact he wasn't even scheduled to play. But history has now told of the incredible influence and wide reach of his trumpet playing and musical experimentation that led into all the different folds of jazz. This year's program celebrates the 60th anniversary of the late jazz legend's historic debut. But who put the jazz onto this stage and made it the internationally renowned music venue it is today? The name is George Wein, the founder of the Newport Jazz Festival.
Without George Wein there would not have been the Newport Jazz Festival or a launching point for many jazz musicians, with an opportunity to feature their talents to a wider audience. He was not only passionate about jazz, playing professionally in his early career in Boston, but he loved the musicians and the "beautiful sound" they made in the variations of their instruments. His belief and love of this form of genuinely American music, during the 1950's particularly, when jazz was still waiting to come-out to a larger audience, helped create a central venue for hosting what is now a 63 year tradition in Newport, Rhode Island.
Wein brought new ears from cosmopolitan New York City and Boston to the Storyville jazz club which he opened in Copley Square in Boston in 1950, not only helping to launch the career of Miles Davis but the legends before him, including Duke Ellington, Dizzy Gillespie, Lester Young, Louis Armstrong and Billie Holiday. But the biggest stage and a significant course of development for their performance careers was going to be Wein's passion to make the Newport Jazz Festival a premier event with the best talent. Wein spoke about finding and promoting talent in a recent interview,
"Jazz is like a deck of cards, there are aces, kings, queens, jacks, etc. – but if you want to put on a great festival – you need aces."
Miles Davis was playing in NYC in 1955, when they ran into each other at a Manhattan club. Wein recalls, "Davis asked me if I was going to do it again (The Newport Jazz Festival). "I said yes, and Miles said, 'you can't have a festival without me,' and he kept repeating that," said Wein, who at 89 is still producing the Newport Jazz Festival without talking retirement.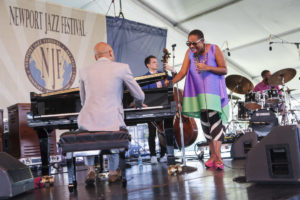 This year at the festival, Wein is now also witnessing the re-creation of his long-gone club, Storyville, in re-creation as a small meeting house for jazz players, solo performances, recitals and panel discussions inside a vacant building on site at the Newport Jazz Festival grounds, next to the old historic Fort Adams. After seeing the new intimate space he remarked, "there won't be a bad seat in the house". Wein also reflected, he had feelings for this new snug and welcoming meeting room like when seeing Louis Armstrong play at the old Storyville,
"Life was very, very, beautiful right there and then."
Back in 1955, when Davis stood on a smaller stage of only the 2nd year of the Newport Jazz Festival event, it was Wein that had arranged to have him added to an all-star jam session that also included pianist Thelonius Monk and baritone saxophonist Gerry Mulligan. Davis was at risk back then, just quitting a lengthy heroin habit that nearly robbed him of a career. But Wein backed him, "Miles was the hit of the festival," Wein said, "He put his trumpet right into the microphone and it came through; loud and clear on 'Round Midnight.' Back stage Miles Davis signed a recording contract that night, and began a 30 year recording relationship with Columbia Records that saw, "the release of classic recordings that changed the direction of jazz." As Wein spoke to the press about his wishes for the 2015 Newport Jazz Festival, he asked that each performer might remember Miles Davis in a song or tribute. Many did with small incursions of solos on trumpet and other instruments, or full renditions of other work by Davis, as if to send a message of love, remembrance, and respect.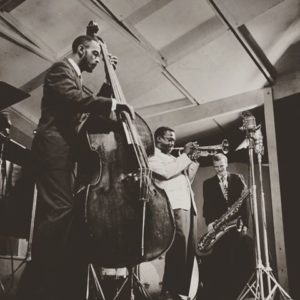 On a glorious summer Sunday, Aug 2nd, I was privileged to be there at the spot where George Wein's Storyville stage started it all. Now a multi-stage, all-day weekend event that this year, as in the past, included a vast array of talent. There were young and up-coming performers like Cecil Mclorin Salvant, with brilliant vocal range soaring through high's and low's – taking the thunder in this years Downbeat's Best of 2014 Critic's Poll; and new-comer Joey Alexander, a prodigy pianist at 11 years old – easily the youngest performer ever at the Newport Jazz Festival or anywhere else on the planet. Returning performers of the current and older generation, were captivating, including Jon Faddis (mentored by Dizzy Gillespie, but also influenced by Davis) with a quintet of younger trumpeters, continuing the tradition of supporting upcoming talent, allowing each musician to stand in the light for a moment and speak with his horn. And then Arturo Sandoval, a Cuban trumpeter who unabashedly sought out American jazz musicians in his youth, being eventually taken under the wing and teachings of Dizzy Gillespie. Sandoval offered some of the experimentation that Miles would have hoped for. He "Scat" sang, played percussion instruments and let the moment take control, or lose control, during his closing number on the main stage that afternoon, all while re-interpreting his voice through his horn. Davis would have approved with all that happened that day, and along the way, since he blew his final trumpeted note at the Newport Jazz Festival in 1975, and thanks to George Wein, there was a stage to be born from.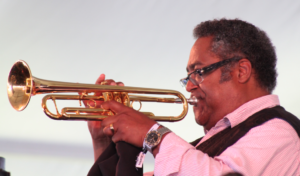 Jazz trumpeter, composer and mentor John Faddis performing at 2015 Newport Jazz Festival– Photo Credit LaNita Adams
At the end of the day's music I was fortunate enough to sit-in on a panel discussion, in the new Storyville meeting room, just established this year on the festival grounds, hosted by moderator Ashley Kahn (renown Grammy award-winning music historian) and jazz musicians Jon Faddis (legendary trumpeter who played with Dizzy Gillespie) and Randy Sandke (a jazz-fusion trumpeter who also played with Benny Goodman). As we sat there – audience, musicians, music historian – in this intimate setting, I realized Wein had made this moment happen – this relationship and dialogue possible between all of us there that afternoon. His foresight, hard work and belief in this festival as a vehicle for the very best that jazz had to offer year after year – was his greatest gift to all of us who love this music. What more lasting tribute can there be to Wein, and his legacy, then to have given us the Newport Jazz Festival and thereby also launch one of the seminal influences in modern jazz, as well as starting the musical careers of countless others. Miles Davis would be smiling on this day.