The passing of a giant in all categories of jazz. Chick Corea, NEA Jazz Master, 22-time Grammy Award winner, keyboard virtuoso as pianist, composer and arranger has earned, by contribution and breadth of musicianship, all the accolades, awards and recognition. If ever the title applied: a legendary figure in jazz. Beyond Corea's range of solo compositions and collaborations are the breadth of cutting-edge bands he formed over six decades. A highlights list includes the seminal jazz-rock fusion group Return to Forever in the '70s, the Chick Corea Elecktric Band in the late '80s, and the 2009 all-star crew of the Five Peace Band with John McLaughlin and his electric/acoustic band Vigil.
The scores of musicians he played with are endless to name. Most notably Corea had an early career as keyboardist for the evolving Miles Davis jazz fusion group in the late '60s, often alongside his gifted peers Herbie Hancock, Keith Jarrett and Joe Zawinul. A partial list includes Stanley Clarke, Al Di Meola, Flora Purim, Airto Moreira, Joe Farrell, Pat Metheny, Charlie Haden, Gary Burton, Brad Mehldau, John Scofield, John McLaughlin and countless other top-drawer talent.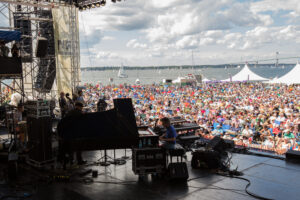 Corea's enormous impact, accomplishments and contributions musically are also testament to his masterful talent as a jazz pianist, compositional innovator and influence over a wide range of world music. His creative directions include many incarnations with cultural and ethnic interpretations in style and instrumentation. He knew no boundaries.
But there was also the humanist characteristic of a caring and generous mentor, and the always inspired and broadly smiling band leader and loyal friend to fellow musicians, both stars and upcoming talent. He enabled them through his love and belief in the power and gift of music as a change agent. Both spiritually and professionally, Corea sought to change the world for the better by reaching people through the joy of music.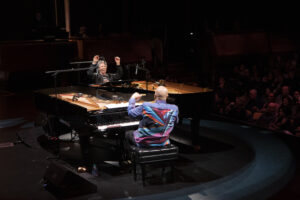 In 2018, he told Jazz Night in America about what he saw as the artist's role: "We have a mission to go out there and be an antidote to war, and all of the dark side of what happens on Planet Earth. We're the ones that go in and remind people about their creativity."
As the leader of many seminal and cutting edge jazz bands, he didn't seek or seem to need the limelight. Instead, the strength of his compositions, arrangements and keyboard set the tempo to feature extraordinary musicians like Stanley Clarke, Al Di Meola, Lenny White, John McLaughlin, John Patitucci, Christian McBride, Brian Blade, Flora Purim and many other artists.
I was fortunate enough to hear the closing Return To Forever concert series in 1976 at the Beacon Theater in NYC. My listening ears have never been the same. The driving force of sizzling jazz fusion cuts from RTF's final album Romantic Warrior (Columbia, 1976) were extended live and improvised by Stanley Clarke, Al Di Meola and Lenny White. Corea was always at the helm, reigning in the solos at appropriate moments, as a formidable battle of axes carried on between Clarke and Di Meola. He would lead the tempo change, make an entry of sparse chords, then suddenly change the arrangement mid-stream, always creating a rhythmic keyboard beat.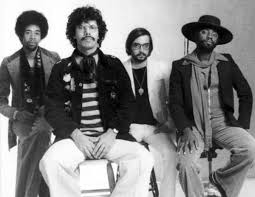 In contrast, several decades later, I saw Corea perform an acoustic duet piano concert with legendary Cuban jazz pianist Chucho Valdes in 2019 at Lincoln Center for Jazz in NYC. I was struck by the contrast of musical content, the intimate keyboard voice and the range of interpretations from blues to semi-classical to Afro-Cuban. True to the roots and boundary-crossing blend of Cuban, Afro-Cuban, and jazz traditions, Corea was delivering yet another shade of musical color from his extraordinary toolkit. As they stood together, taking their bows to an ovation of applause from an enthralled audience, both Valdes and Corea knew they'd have to play one more. Corea started the intro to "Armando's Rhumba" from his release My Spanish Heart (Polygram Records, 1976) and most of the audience seemed to know it, and moved with the infectious Spanish/Latin beat.
From the forthcoming quotes and reflections worldwide from the musical community, and not just in jazz, it is clear his impact is both heartfelt and endearing. A legacy in musical content, but also humanity.
The social media announcement of his death included words from Corea himself: "I want to thank all of those along my journey who have helped keep the music fires burning bright. It is my hope that those who have an inkling to play, write, perform or otherwise, do so. If not for yourself then for the rest of us. It's not only that the world needs more artists, it's also just a lot of fun."
"And to my amazing musician friends who have been like family to me as long as I've known you: It has been a blessing and an honor learning from and playing with all of you. My mission has always been to bring the joy of creating anywhere I could, and to have done so with all the artists that I admire so dearly—this has been the richness of my life."
Amen to all that.