Though jazz knows no boundaries, it still remains a wonderful surprise and reward to find a gem of a jazz club in whatever corner of the world you happen to find yourself. Since 1974, The Blue Note Taipei, a cozy historic jazz café in the capital city of Taiwan, has been just such a place for loyal local listeners, tourists visiting from abroad, students of jazz or new ears to the music. In short, since becoming co-owners/managers in 2019, Huang Xinzhe (who goes by the nickname A-zhe) and his sister Huang Dan (who goes by her English nickname Carter), have been delivering their passion for this music seven evenings a week. Offering a creative set list and dynamic range of bands from quartets, trios, big-band and instrumental, to styles from standards, bebop, smooth and improvisational, the Blue Note Taipei keeps a steady pulse of jazz late into the evening.
The story behind the original development of the Blue Note Taipei harks back to the founding owner, Cai Hui-yang, "who started in a small space in Yongkang Park (a neighborhood of Taipei), in 1974, primarily selling jazz and blues records and musical instruments," says A-zhe. Cai was also a jazz musician and performed at his club, eventually concentrating on live performances. A-zhe recalls, "for the longest time we were a combo operation, originally still selling music and instruments and also operating as a restaurant, café, tea shop, music venue and bar—even as a classroom, with jazz lessons given in the afternoons."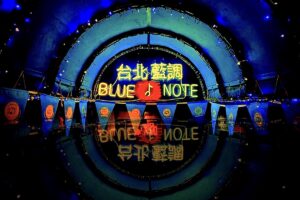 A-zhe came to the Blue Note in 2001 where Carter had already been working as a bartender. There was a natural relationship built over time between Cai and A-zhe and Carter based on a profound appreciation and love for jazz. Upon Cai's retirement, A-zhe and Carter were eager to continue the operation and management, but also needed to focus on expanding their audience.
While keeping with the original style and philosophy of a small intimate café venue and promotion of Taiwanese musicians, A-zhe and Carter also wanted to attract a younger crowd. Since taking over the Blue Note Taipei, they have actively pursued and developed marketing through web-based promotion such as their Facebook page and their own Blue Note Taipei website. Prior to their ownership of the club, there had been more middle-aged listeners and less variety in jazz styles performed. Carter explains her goal was to "attract more people to enjoy and appreciate the music, rather than students just learning about jazz through instrument instruction at school."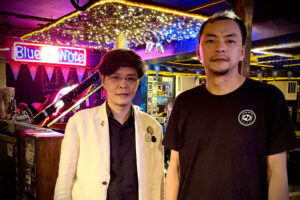 Most importantly for the jazz community in Taiwan, both co-managers have created hands-on performance opportunities for jazz students who are studying with some of Blue Note Taipei's regular leading band players. On certain occasions, under mentorship by professional musicians teaching at universities in Taiwan, students are given the chance to practice their skills on the stage at the Blue Note Taipei -many of them for the first time. Once a month, a larger band format is arranged, onto this quartet-sized stage, providing practical experience for a student who has only played in a university music practice room. A-zhe points out an added promotional benefit for the jazz club is that these same jazz students become ambassadors for jazz, bringing family, friends and university colleagues to his venue and other clubs in Taipei.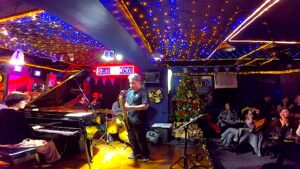 Talent in Taiwan is not in short supply either, as many of the current and regular band leaders and members of quartets and trios have resumes that include study abroad at highly regarded music schools such as Berklee College of Music in Boston. Shawna Yang, a professional saxophone musician, mentor and instructor, can be heard playing a variety of styles—varying from traditional to bebop—as she leads her quartet "Meta"(short for metamorphosis) every Friday night at the Blue Note Taipei. Ms. Yang received a full scholarship at Berklee in Boston (2000-03′), majoring in performance (with the tenor saxophone as her principle instrument), while also taking additional coursework in jazz improvisation. Yang was also very active on stage during this time, performing in several jazz ensemble bands at Berklee. She currently teaches a Big Band club at the National Taiwanese University, mentors jazz studies students and teaches additional classes at area universities. On the night I saw her, Yang took her quartet confidently through compositions by John Coltrane, Thelonious Monk and Stan Getz, amongst other selections, with full solo-commanding artistry of her own on saxophone and flute.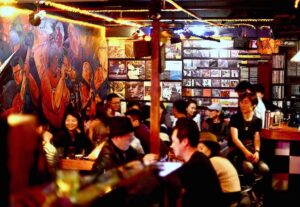 Ms. Yang has released several CD's as well, with her most recent Simple Life(AsiaMuse Entertainment, 2015) , recorded in New York, winning "Best Instrumental Album" at the 2016 Gold Melody Awards in Taiwan (Taiwan's version of the Grammy Awards).
Michael Wang, originally from California, and another Berklee College of Music graduate, recording jazz trombonist and band leader, is performing with his quartet the first Sunday of every month at the Blue Note Taipei. A self-proclaimed refugee from the United States due to Covid restrictions, he returned to Taiwan as live performances are available here for musicians due to the government's successful control of Covid, allowing for social gatherings that include concert and club venues (with mask requirements for all events). Recipient of the Presidential Scholarship, Mr. Wang was a member of the innovative Berklee Global Jazz Institute in Boston from 2013-2016, and studied under the director, founder, and renowned jazz pianist and composer, Danilo Pérez.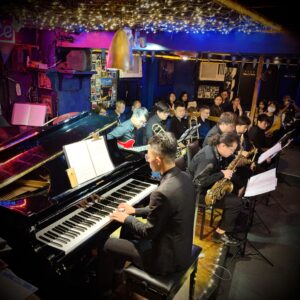 Wang's debut album Bone of Wang, Volume One (Next Level, 2020) is mostly original compositions that carry forward a variety of jazz influences from New York-based trombonist, singer, arranger and bandleader Frank Lacy, and legendary bassist, composer and arranger Charles Mingus. Wang also played under band leader Lacy and the Mingus Big Band as well as other gigs in Greenwich Village during this period. As with all Taiwanese jazz musicians I've met, there is a desire to give-back to students of jazz locally. Wang is planning on staying in Taiwan for the near future, helping influence the next generation of jazz musicians, "I am thinking of staying here in Taiwan to help the jazz scene grow, and be a mentor to many up-and-coming jazz musicians who are here now."
Outside of Taiwan there is a steady draw for jazz musician's booking at the Blue Note Taipei and other small jazz clubs in Taiwan. Co-manager Carter is mostly responsible for booking talent and shares that jazz musicians from Japan, South Korea, China and Thailand come to find this small jazz club by reputation and the unique culture of Taiwan. Regarding international promotion, Carter explains, many performers search her out through the internet and it helps that she speaks a common language: English.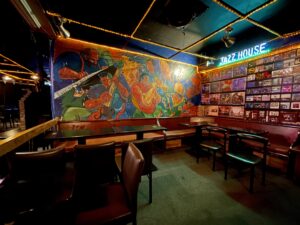 Like all jazz musicians around the world, you play because you are committed, passionate and want to explore and share with a wider audience. Monetarily, Taiwanese jazz musicians are faced with the same universal challenges of needing work outside of the performing stage, to maintain a living. Many teach at the university level, mentor through private tutoring, perform as side musicians for recording studios and, in some cases, perform and record with top pop and contemporary artists.
Even with the innate challenges of making a living in the jazz world, Blue Note Taipei owner A-zhe points out that jazz, overall, "is healthy in Taiwan, and will get even better." He cites that Taiwanese university curriculum has been rapidly expanding, offering jazz study and performance programs that didn't exist 5-10 years ago and that ultimately "it is the youth" that will continue growing a wider jazz audience. In no small way it is also the dedicated, hardworking, passionate ambassadors to jazz like A-zhe and Carter, who do the "heavy lifting" behind the scenes at the Blue Note Taipei, seven days a week, that makes jazz a wider world.