When you think about video game themes, the word "jazz" does not easily come to mind. However, on March 1st at the Berklee Performance Center, Charlie Rosen, "gamer," multi-instrumentalist and orchestral composer/arranger brought the two together with his 30+ piece jazz orchestra, the 8-Bit Big Band. He wowed an audience spanning the generations from pre-Nintendo to xBox. An exceptionally gifted musician capable of playing over 70 instruments, Rosen, at 29, has already been involved in arranging Broadway shows as an associate musical director and orchestrator for American Psycho, Be More Chill, and Prince of Broadway. The show's immersion into expanded, enhanced orchestral arrangements of familiar video game themes from Super Mario, Legend of Zelda, Final Fantasy, Donkey Kong, and Pokémon debunked any preconceived notions of simplistic, pop-oriented theme repetition. Instead, with a nearly two-hour set, Rosen and his 8-Bit Big Band demonstrated an astoundingly rich and complex selection of arrangements for orchestra, taken from simpler videogame themes that exploded the boundaries of jazz innovation.
Rosen, already a veteran bandleader of two jazz orchestras including the 8-Bit Big Band, started Charlie Rosen's Broadway Big Band in 2012, where he arranged classical musical theater numbers into music performed by a Jazz orchestra featuring Broadway performers taking vocal duties. Rosen refers to the on-the-job training he banked from his Broadway arrangement and orchestration experience, empowering him to see Broadway shows as a "vehicle with which you can take any genre and dramatize it and use that genre's ingredients for a full emotional range."
Fast-forward to his current orchestra, the 8-Bit Big Band, whose live performance videos on YouTube have had more than 30 million views since 2017. With a self-proclaimed "esoteric tooth in musical taste," Rosen has a thirst and drive to "know all about all kinds of music—past, present, worldwide and future." Speaking directly to the concept behind melding videogame themes to a 30+ piece Jazz orchestra, he likens the concept to a "videogame" songbook, "because we have a shared experience of a new body of media—which is video games—which represents a ton of people." Rosen draws a parallel to other generations that listened to Frank Sinatra or Ella Fitzgerald perform Cole Porter's songbook. Now, his generation, with millions of gamers, are connecting with their shared experience.
The evening's first performance began with friend and fellow bandleader
Carlos Eiene
, who performs under the stage name "InsaneInTheRain" and showed off his original arrangements of videogame themes with an orchestra of students from Berklee College of Music. With their tight and in-synch orchestration, deep in talent, Eiene led his band through renditions and reincarnations of "Veilstone City" "Eternal City" "Mii Channel" "Underground" and "Eternal Forest" moving easily from one Jazz style to the next. While telling stories about the creative process and happy accidents that took him to this genre, he also easily demonstrated a fluid command of his instruments, taking an extensive solo on both the baritone and tenor saxophone. Also featuring a variety of solo moments from other band members, including the electric guitarist, trombonist, pianist and a myriad of other horn players, Eiene left little doubt about the power of his arrangements and the musicianship of a young jazz orchestra charged up by their generation's videogame songbook.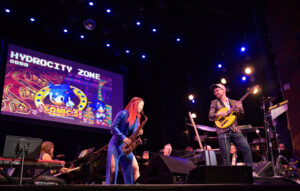 To add to the multimedia effect and visual reinforcement of the musical context, both arrangements performed by Eiene and later by Charlie Rosen's 8-Bit Big Band, were accompanied by an overhead stage screen simultaneously running the very video game that the orchestra was covering.
After Eiene's set, the main attraction, bandleader Charlie Rosen, took to the stage with his 8-Bit Big Band, a 33-member Jazz/Pop orchestra complete with full horn and string sections. With carnival-like showmanship and wide smile, wearing a glittering gold and black-striped showbiz jacket and baseball cap, Rosen exuded an infectious enthusiasm. With conducting hands at the ready, he launched into a Super Mario Bros theme, not wasting a moment to connect a traditional standard with a videogame overlay using Frank Sinatra's "I've Got the World on a String," with an emphasis on the string section to add richness to the orchestration, reminiscent of Nelson Riddle.
More creations were in store for the audience as Rosen picked up his fretless electric bass and inflected a dedication to the late, seminal bassist and innovator
Jaco Pastorius
with "Dire, Dire Docks" theme from a Super Mario videogame release. Rosen effortlessly channeled the plucking intonation and harmonics of Pastorius with wonderful runs across the fretboard. With eyes closed, Rosen seemed lost in this heartfelt tribute.
Taking to center stage for a solo moment, musician
Zac Zinger
playing the EWI, (a synthesized wind instrument which can be switched from flute to oboe to saxophone) produced a dreamy interlude of notes alternating between Rosen's direction of the orchestra for his version of the
Birdman
soundtrack. Following up on several previous releases that have enjoyed popularity on social media,
Press Start!
(2018) and their second album,
Choose Your Character
(2019), this cut will be included on their upcoming 2020 release.
Stellar multi-saxophonist, vocalist, DownBeat Critics Poll winner and Berklee alumna
Grace Kelly
joined the stage, with Rosen conducting, and delivered fireworks for several theme covers, including "Hydrocity Zone" and "Big Blue" running her fingering across the octave keys and owning the spotlight with her spirited performance. (These exceptional musicians met while attending Berklee College of Music, and Rosen had Kelly immediately in mind to feature with the band. "I wanted someone playing excited jazz—one with an edge to it. Grace was an obvious fit," Rosen said). Kelly, also a gifted vocalist, belted out a
Lena Horne
-like version to Rosen's "Super Mario Odyssey" arrangement of "Jump Up, Super Star!"
With a more Las Vegas-like presence, the final featured performer to accompany Rosen's band was Leo P., a baritone saxophonist with flashy performance acrobatics and dance moves, all while blaring his horn. He is a current member of the "brass house" band
Too Many Zooz
, and a former member of the
Lucky Chops
brass band. In studded black leather coat, cut-up jeans and a crop of blonde hair, he strutted onstage with an Elvis-like swagger and laid into "Super Mario Land Underground." Blowing powerful notes across the scale range, Leo P. took on the orchestra and raised the musical heartbeat another notch.
Later, both Kelly and Leo P. shared a high-stakes horn exchange for the "Super Mario Land Underground" theme and the "Mortal Kombat" theme. And then, both special guests joined Rosen, dressed in a Pokémon costume, as the 8-Bit Big Band played his admitted favorite videogame theme. The finale, "Gerundo Valley" from "The Legend of Zelda"—which the fans knew well—is Rosen's most popular choice to end his show, a beautiful melody reminiscent of
Stan Kenton
's "Malaguena." Following on Rosen's conducting, the orchestra still exuded high—powered energy until the very last note, even as this was the second performance of the day (the band had an afternoon matinee performance at the same venue). Rosen and his orchestra were rewarded with a standing ovation from the enthusiastic crowd.
What had been brought together this evening by a deeply gifted young arranger and instrumentalist was a generational team of exceptionally talented musicians, a quality that figured heavily in pulling off this highly creative, immersive, multimedia celebration. Rosen and his orchestra also showed that broadening the scope of material for jazz interpretation not only enriches choices for jazz fans but also draws new listeners to the genre. After all, there was plenty of gray hair mixed into the audience! Beyond the obvious talent of musicianship and innovative arrangements, Rosen and his 8-Bit Big Band delivered incredibly upbeat energy live. This infectious momentum can only increase the well-deserved recognition of a wider range of listeners. With Rosen's videogame genre covers already channeling a huge audience on social media, the launchpad is ready for taking his "songbook" to a larger stage.