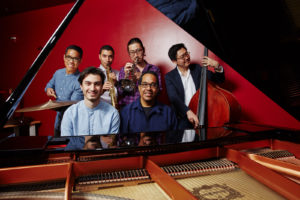 Where do gifted musicians go to become student leaders of a world community and affect positive social change?
The Berklee Global Jazz Institute in Boston, founded by Grammy-award winning jazz pianist, composer, professor and educator Danilo Pérez, through a curriculum that includes world-music exploration from roots up, to arrangements and performances of original composition, to internships and projects in remote under-represented communities around the globe, students develop into ambassadors for humanity. This is not an ethereal concept or group meditation on a "better world" but a hands-on curriculum that directs these young extra-ordinary musicians to park the "self" for a greater good. Pérez speaks to this part and emphasis in the program, " When somebody has a gift, I believe he/she has a responsibility…you must have the desire to be a role model in society – and step away from your instrument." BGJI offers a unique alternative approach to a discipline that has often focused more on developing self-achievement and acceptance based primarily on talent. Pérez keeps his mission and integrity close to the selection process, "you have to have the desire to experience the process of human development…fame is a four letter word."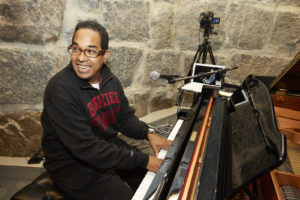 Mentoring includes a faculty of internationally recognized musicians like Terri Lyne Carrington, John Patitucci, Joe Lovano, and special guests, like jazz drumming legend Jack DeJohnette, who held a weeklong workshop in December (2016) and of course, direction from Pérez himself. Those accepted into this very competitive program at Berklee College of Music in Boston, Massachusetts, are expected to see their talent as a responsibility to move beyond the mastery of their instrument and pursuit of commercial success. At the BGJI, developing their skills as musicians also means sharing and accountability to less-developed, under-represented communities from Roxbury to Panama (Pérez's home) to Africa – well beyond the center stage of a famous jazz venue or the inner focus of an instrument solo.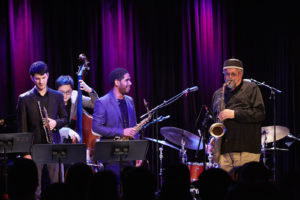 As you learn the individual stories behind some of these very exceptional young artists, you quickly realize that their "voice" or more directly their future contributions to Pérez's mission at BGJI, depends directly on the opportunity provided by this remarkable program. Full scholarship funding is available to all applicants accepted, thereby removing that financial hardship as an obstacle to the decision to enroll, and thereby being more inclusive of talent in far reaches of the world, that otherwise would not be heard.
I briefly met Witness Matlou, jazz pianist and a graduate of BGJI, at a finals recital for students performing before Mr. Pérez and Marco Pignataro (managing director). Matlou's journey had taken him from Johannesburg, Africa, playing in church during his youth, to finding his way to the U.S. with a scholarship that allowed him the steps to become aware of the breadth and mission of BGJI. As part of the "share back" concept of Pérez's program, Matlou and other student musicians travelled to West Africa and performed with local African bands, shared music at an orphanage, and participated in the sounds and dance of native villagers. Now, a graduate and composer and performer, playing professionally in Europe and the US, he is also a passionate promoter of the program's mission, "I've learned that giving and sharing isn't about money and material things, but a way to build ourselves spiritually and have a more meaningful purpose in what we do."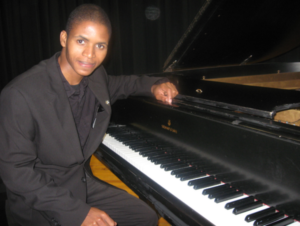 Consider the journey of Lihi Haruvi, saxophonist and graduate of BGJI, finding her way along a musical path that started in an Israeli Kibbutz conservatory to being offered a Tel-Aviv Conservatory Scholarship and then completing compulsory military service in Israel, and finally successfully competing for a scholarship opportunity at BGJI. Haruvi is now a graduate of not only BGJI but holds a Master of Music degree from the New England Conservatory in Jazz Performance. As a teacher, performer and educator, and one of the programs many ambassadors, she shares the belief and values she learned under her mentors. Her reflections about her personal experience as a BGJI student visiting Cameroon and Gabon in Africa (found on the BGJI Students Share site) speaks to the perspective-change event that is a crucial part of the philosophy inspired by director and founder Danilo Pérez, "There were a lot of moments and a lot more proofs in my opinion, of how strong music can be in bringing people closer together…and from within our own BGJI group, every player was from a different country, from a very different culture…I feel blessed to able to take part in something so great…that gave me the gift of being a part of the Berklee Global Jazz Institute."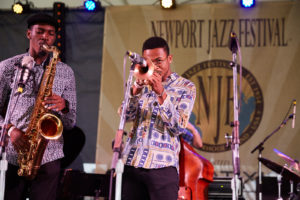 In speaking with Mr. Pérez recently in an interview, his passion and dedication came through with a warm smile and generous nature. He spoke about the ideas that came to him for this institute, an origin that began with his own father's influence as a teacher, "my father was a singer, and he taught me music – but did it through mathematics, geography and other courses…my background comes from educators." Beyond his childhood foundation of interdisciplinary "learning through music", Pérez moves quickly to share the critical importance that legendary trumpeter and composer Dizzy Gillespie had in planting the idea of merging artistic expression with "positive" social change. As a crucial mentor in Pérez's life, Gillespie is credited for opening his eyes to the inter-connectedness of instrument, composition and humanity, "music unifies…it is a powerful tool to build society in a positive way." Pérez specifically underlines emphasis when he uses the word "positive" – his passion and conviction are un-deniable in the tone and pronunciation of this word.
As I listened to the final BGJI recitals before December 2016 term break, I could feel the closeness and mutual consideration and appreciation of the musicianship in each quartet's composition. The "vibe" was clear in the after performance hugs, smiles and closeness. The inter-connections with teaching staff, family members and friends presented a strong communal spirit. These few students were now going to join others- graduates and alumni of BGJI – in this social view beyond the instrument they held in their hands.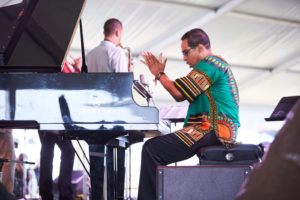 The program is a reflection upon Pérez's life experiences and musical mentoring and world community view. He has followed a path that "knows no international boundaries", as one of his students reflected. The proof of his endeavor is in the students, and their testimony to his message, "the future is going to be a way to bring the classroom into the world." At the blog page for BGJI you find personal accounts of change-events, particularly during visits to remote, under-developed areas. Program graduate and saxophonist Paul Eirik Melhus remarks on his trip to West Africa, "He (Pérez) made very clear the call and response in the music…the experience has given me a stronger holistic view of the world, a view that I plan on developing for the rest of my life." In closing the interview with Mr. Pérez, he gave me a quote from Wayne Shorter (brilliant saxophonist and composer, leader of seminal jazz-rock fusion band "Weather Report" and widely influential in all interpretations of jazz) and it read,
"Write and play music the way you want the world to be like."
You can't say it any better than that.