Wadada Leo Smith, acclaimed jazz trumpeter, multi-instrumentalist, composer, educator and "creator" has released a new musical composition, an oratorio of seven songs inspired by the iconic civil rights leader Rosa Parks(1913-2005). In his own words, the oratorio is "concerned with ideas of freedom, liberty and justice, a meditation centered around the Civil Rights movement." Looking at Mr. Smith's 50+ years of creative and artistic visions in music, this release is yet another inspired organic musical direction that joins previous work, that has established him as one of the leading composers and performers of contemporary music.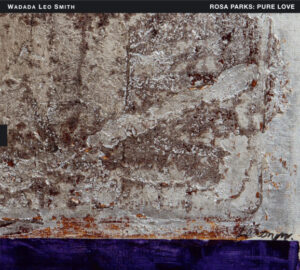 Smith is taking himself and his audience on another musical and spiritual journey, making discoveries with sparse instrumentation, solo vocalists, spoken word, and additionally, a historical video presentation with live performances scheduled for 2019. This tribute to Rosa Park beautifully mixes a world view of exceptional vocal parts between African-American Karen Parks, Min Xiao-Fen from China and Carmina Escobar from Mexico City. The ethereal voices are accompanied by both the RedKoral Quartet(string quartet) and Blue Trumpet Quartet featuring Smith with Ted Daniel, Hugh Ragin and Graham Haynes, with drum-set(Pheeroan akLaff) and electronics(Hardedge). With minimal instrumentation, Smith conveys, again and again, the spiritual narrative of Rosa Park's extraordinary and fearless actions that, in Smith's words, "generated a movement worldwide for liberty and justice for human beings."
Although making a demand on the attention of the listener for each of the "Seven Songs", Smith rewards conceptually by delivering the sum of the parts, utilizing the full range of emotion available in instrumentation and voice. Throughout the piece, with minimal vocal narrative, the titled entries alternate between visions and songs, eliciting Park's "feelings" as she makes her journey with headings such as "Resistance and Unity", "Defiance, Justice and Liberation" and "Postlude: Victory!" With all the noise in the world – politically, socially and environmentally – Smith reveals in this composition, a contemplation of sounds that evoke the full range of Rosa Park's humanity.
In my recent conversation with Mr. Smith regarding the nature and evolution of his music, he talked directly about creation instead of the often-over-used phrase "improvisation". Creation, according to Smith is "the process of making art in the present moment." With the Rosa Parks release Smith is seeking just that, as emotion is not written into a specific note, or a set solo, to paraphrase his explanation. From a musician's standpoint, he explains, "listen to Miles Davis or Louis Armstrong – they have 4 to 5 different kinds of B Flat." On his highly acclaimed and awarded release, America's National Park (2017, Cuneiform Records), which won DownBeat Magazine's Best Album of the Year, 2017(also garnering Smith DB's Annual Critics Poll in 2017 for best artist and trumpeter), Smith's themes again set a mood for the players to  "sketch" their own interpretations. Listening to the beauty, power and soundscape of Smith's trumpet and accompaniment on "Yellowstone", his ode to the first National Park, you hear the spontaneous "creation" and interplay of instruments.
Clearly here is an artist not seeing borders but instead a wide-open palette of sounds, unique and different based on individual musicianship. Smith's Rosa Parks: Pure Love. An Oratorio of Seven Songs finds an ever-inquisitive artist, taking chances and finding opportunities to explore and discover, in his own observation, "what is right in front of us" musically, rewarding the listener along the journey of this composition.
Photo by Scott Groller/Courtesy of the artist