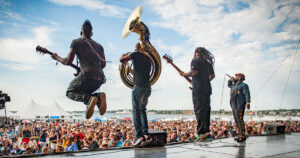 The 2023 Newport Jazz Festival was a thriving demonstration of the stewardship of artistic director Christian McBride. In keeping with the vein of the late founder and director George Wein, McBride continues to pick a broad range of new talent, rising stars, and legends, providing the variety and excellence in musicianship that draws the crowds year after year. That 2023 was a sellout is proof of the success of McBride's approach.
Here are some highlights from a variety of performances from this year's Festival: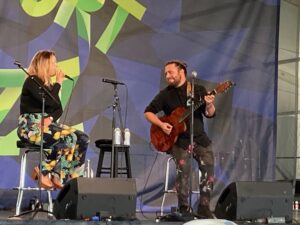 Jennifer Hartswick & Nick Cassarino Duo
Trumpeter and vocalist Jennifer Hartwick delivered with powerful pipes coupled with fast allegro flamenco-style chords & picking virtuoso, guitarist Nick Cassarino, offering an intense duet together. With a fearless reach and octave range, Hartwick carried a soulful and high-energy soprano. Blasting from her trumpet alongside red-hot string picking and strumming by Cassarino, the tempo included love ballads and closed with Cassarino laying down smoking versions of blues standards including Stormy Monday and How Blue Can You Get.
James Brandon Lewis
With his breakthrough album Jesup Wagon in '21, young saxophone gun & and intellectual composer James Brandon Lewis played some soaring adventurous interludes, at times channeling Coltrane in this writer's opinion. The audience was required to embrace some long extended solo pieces. Pushing limits with his tenor saxophone, Lewis performed Someday We Will Be Free and Even The Sparrow, closing with a beautiful intimate melody as a tribute to his family and father.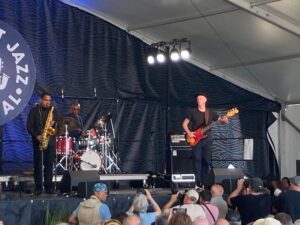 Charles Lloyd
Putting all other younger horn players on notice, the cool bop flowed effortlessly from Lloyd at 85 years old as he remained completely in the moment for the entire set. His depth and touch on the tenor saxophone and flute were both masterful and profoundly beautiful, jumping between bop, hard bop, and ballads with Jason Moran delivering pyrotechnics of bop runs and chordal intensity on the piano. Billed as "The New Quartet," this was easily one of the top performances of this weekend of extraordinary jazz talent.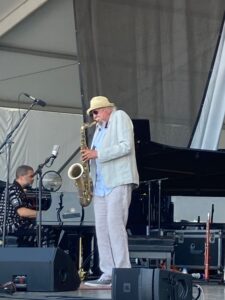 Christian McBride's Jam Jawn
Featuring special guest David Grusin, GRP Records' cofounder and superb "smooth" jazz pianist and bandleader, McBride had fun running each player through solos of standards and went into a funky side as well. There was stellar accompaniment, including John Coltrane's son Ravi on powerful saxophone takes and polished and stylistic jazz guitar from Eric Krasno, accompanied by dueling percussionists on drums and congas. The Jam Jawn, as before, was all driven by McBride on bass, showing off his soloing chops as well. A playful nod to James Brown's Sex Machine had McBride seeking a temporary bassist from the onstage guest crowd to fill in while he attempted the famous James Brown spin-around maneuver at the mike. The set closed with Grusin leading the melody on Westchester Lady, written by his longtime friend and bandmate Bob James, and passing it around for all to interpret.
Jon Batiste
Even with a 20+ piece big band orchestra in matching red suits, when Batiste took to the stage with his own bright red suit, his natural energy engaged the audience like a bolt of electricity.
With an enormous smile and contagious enthusiasm, he asked the audience "I need you to be with me now," and were they ever from that point forward! He began with a gospel-like rendition of his prophetic spiritual composition Worship and got the crowd feeding back the lyrics. Capitalizing on his huge stage presence, Batiste launched into his big band version of Let the Good Times Roll. His vocal accompaniment by diva-like singer DesZ took the emotion and gospel soul to yet another level.
He channeled a Duke Ellington-type of big band control and direction, and then the next minute was standing at his Steinway piano gyrating like Little Richard. He delivered a very personal version of his love song, I Need You and with boisterous vocals, DesZ delivered the swagger with backing by the orchestra for Ray Charles's classic The Night Time is the Right Time. 
Taking to the piano for an amazing demonstration of the versatility of playing, he morphed into a medley that included a Beethoven interlude that eventually led to a jazzy take on the Moon River melody. Batiste's command of his instrument and outpouring of emotion was undeniably powerful.
Finishing with a crowd-engaging performance of his compositions Freedom and Drink Water, Batiste had the audience dancing and swaying to the gospel refrains. DesZ's presence and voice were there to raise the roof on each number. Batiste ended his set with a tradition in New Orleans of marching the band into the audience, adding a message of togetherness.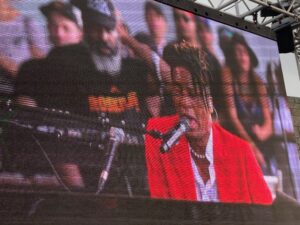 Claudia Acuña
A Chilean-born New York City performer, Claudia Acuña offered a spiritual Latin twist with a high-ranging voice. Her narrative told stories of pain, hope and revelation and the audience remained quiet to hear the peaks and valleys of her voicings. She chose some songs from a comeback release DUO in 2020, which included stellar talents like Christian McBride, Fred Hersch, and Kenny Barron. Acuña showed that simplicity in composition; her ethnic Chilean roots and an emotional flow of lyrics are potent and reflective.
Matthew Whitaker
Utilizing a Hammond organ, Steinway piano, and electric keyboard, Matthew Whitaker was once a child prodigy, having taught himself to start playing piano at 3, and the first blind student to be enrolled in the jazz studies program at Juilliard in New York City. The other part was pure adrenaline. He revisited Chick Corea's Spain with his own emotional mix. Moving on to cover rising star and jazz vocalist Charles Turner's Harlem Harlem Harlem, Whitaker offered a funky, boogie-woogie groove that flowed into his own R&B composition, Take a Break. The Hammond organ dominated the super funky ride, as Whitaker showed off his range, also jumping between the Steinway and electric piano with ease. Finishing with an appropriate message-based song, Marvin Gaye's What's Going On, as an obvious reflection on the current divisions in our country, he moved the crowd to join the chorus and to sing as one.
Charles McPherson Quintet
As an elder statesman of jazz at 84, having played in the Charles Mingus band, legendary alto saxophonist and bandleader Charles McPherson had, onstage, a cookin' quartet that delivered swing, bop, and ballads in what was arguably the tightest, most in-sync group of musicians at the festival. Straight ahead and stretching it out on saxophone, trumpet, piano, bass, and percussion, McPherson and his band showed off well-earned chops that time had not diminished. Swinging with The Wedding Song, trumpeter Terell Stafford, at a young 56, almost stole the show with his blasting bop-fast solos. Introducing a Moroccan beat with Song of the Sphinx, McPherson led off with a slow-rising melody and later commanded with a scorching Charlie Parker-like bop lead. Closing with some outstanding covers of seminal jazz classics including Cherry by Harry James, there was a recognition by the audience of a standard of excellence having been set by this passing generation.
Scary Goldings featuring John Scofield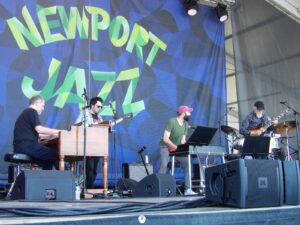 Led by founding band member and organist Larry Goldings, the fusion-based and funky '70s sound was retroactively reignited, featuring a guest appearance by jazz guitar virtuoso John Scofield. There was little pause before each take, as the band, including an electric keyboardist, bassist, and drummer, followed Goldings and Scofield, both of whom remained clearly front and center on all takes. Showcasing Goldings' totally mesmerizing command of the Hammond organ and Scofield's eccentric runs up and down the fretboard with complicated chordal interpretations, Scary Goldings kept it funky with Smell the Funk and Dirty Socks. Scofield was given a tight fusion number later to deliver a red-hot soaring guitar lead. Cornish Hen offered a changeup, featuring Scofield with a whining, string-bending, guitar-picking country style.
Back in his twenties, Scofield (now 71) played with Miles Davis during his fusion period, and Davis nicknamed him Professor Vicarious, and the Scary Goldings band played a finale namesake funky tribute composition to Scofield. Scofield obliged with one final intense, ascending solo lead.
The Moodswing Reunion: Redman, Mehldau, McBride, and Blade
A reunion that brought together deep talent and exceptional musicianship on each instrument, saxophonist Joshua Redman, pianist Brad Mehldau, bassist Christian McBride, and drummer Brian Blade were back with purpose, after originally forming over 30 years ago. Led by frontman, saxophonist extraordinaire Joshua Redman, the stunning mastery, deep-seated groove, and exuberance were evident from the start. Every solo was superb, and the interplay was even better as Redman led the band through selections from their Grammy–winning A Mood Swing Reunion, Round Again, and Long Gone.
Also, this was a remarkable tribute to McBride's versatility and stamina, managing to perform in two different lineups during the 3-day festival and serve as Artistic Director, host, and emcee for many performances, and all roles in between. As George Wein would have said, McBride did not miss a beat.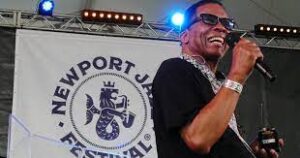 Herbie Hancock
At 83 years young, Hancock was all smiles, taking the stage with chants of "Herbie, Herbie, Herbie" from the huge gathering main stage crowd for the finale of the Festival. With his current touring lineup, brilliant trumpeter Terence Blanchard, guitarist Lionel Lueke, bassist James Genus, and young drummer Jaylen Petinaud, Hancock wasted no time in launching into a medley of his chameleon of genres. He would later introduce his youngster drummer Petinaud, at 24 years of age, reminding him that he had started playing with Miles Davis when he was 23, playfully chiding "I beat you." Blanchard, a superb interpreter and veteran trumpeter, and bandleader of E-Collective, (also credited with two opera scores and multiple film soundtracks), took on Hancock's Rockit with synthesized horn runs. Hancock returned to pay tribute to his lifelong close personal friendship with the late Wayne Shorter with an extended version of Footprints in an arrangement by Blanchard. He closed with a rousing crowd-pleaser, a stepped-up, funkily pulsating Chameleon, passed around to other musicians while shouldering his KeyTar while his nimble fingers easily ran across the electronic keyboard.
The Newport Jazz Festival is a special place every year, with the backdrop of Newport Harbor, the historic Fort Adams State Park area, and most importantly, the laid-back, friendly vibe, asking everyone to participate in openness, kindness, and meeting strangers to share in a love of jazz itself.
See you next year, Newport.