This year's Newport Jazz Festival was to feature and highlight particularly an incredibly diverse selection of female performers and female ensemble groups. Wein, in his newsletter "Notes from the Wein Machine"(March, 2018), was very direct in his statement about the "sophisticated ladies" in jazz, "As I look back more than 70 years later, I am proud to see the gender gap has closed and the lineup for the 2018 Newport Jazz Festival most certainly reflects that change."  
Also, included in this year's lineup was an emphasis on emerging ranges of musical talent, exemplified by a variety of new acts that didn't fit neatly into the category of jazz – pushed back at conventional boundaries. New acts allowed for an injection of retro R&B, electronic programed driven pop with conducted orchestra and funky rhythm backed soulful singers with amazing "pipes" and individual phrasing.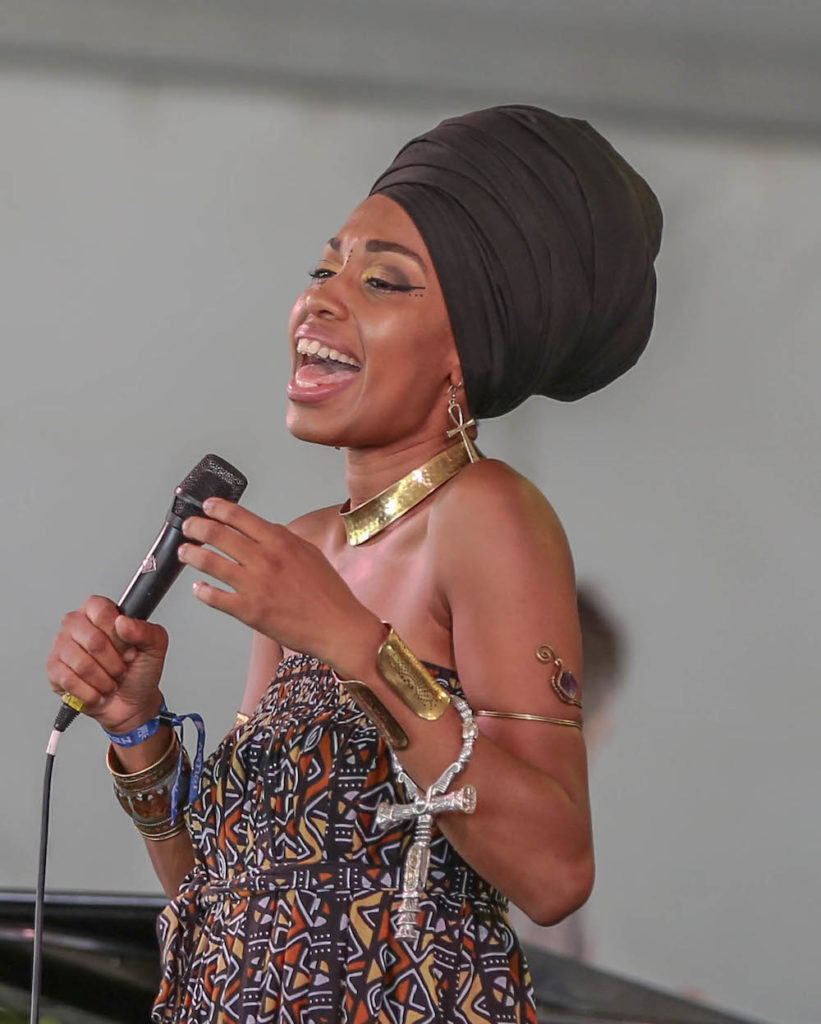 Jazzmeia Horn (photo by Joe Allen)
A selection of highlighted performances follows: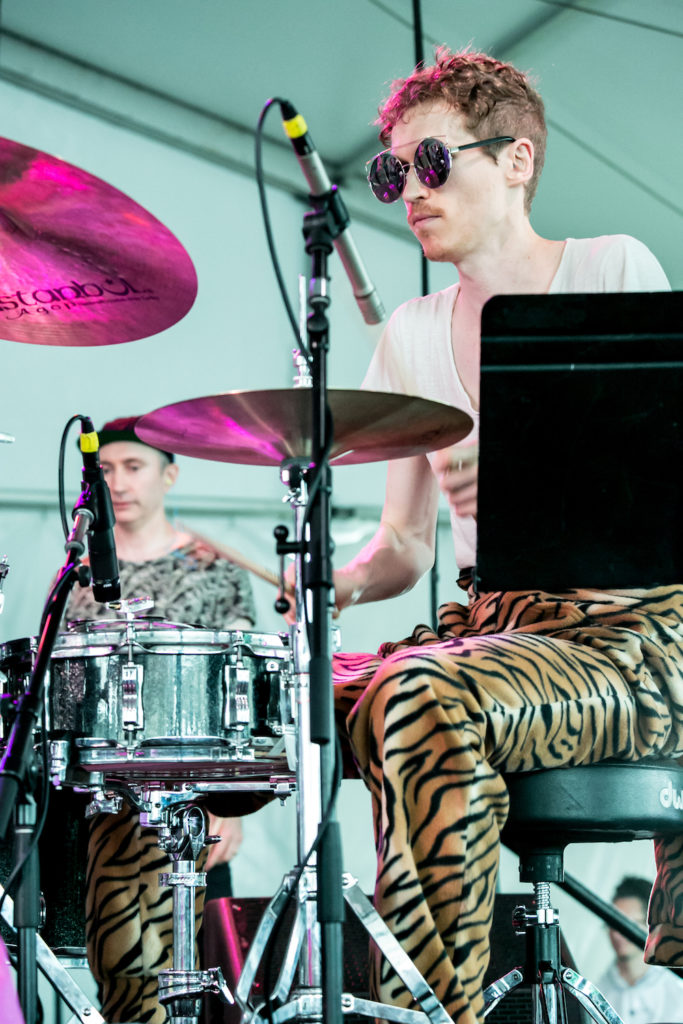 1)Louis Cole & Big Band Blowout
A personality sensation on stage with 12-piece orchestra, and an "in your face" conducting-style performance, Louis Cole is celebrated as one of the "world's most future-sonic-funk drummers"(Newport Jazz Festival, 2018). He delivered an electronic driven jazz funk set, including two soulful dancers on stage, with his lap-top programming the drum beat. Cole's performance was part circus showmanship and part big-band dance-pop featuring a tight rhythm section with featured saxophone, bass and keyboard soloing. Cole, an L.A.-based self-made "creator" of independent electronic music, has found pay dirt and gained enormous success in releasing music on-line. This year, Louis' viral music content Weird Part of The Night, Bank Account, Blimp and Thinkingamassed millions of views and captured the attention of The Red Hot Chili Peppers who invited him to open their tour. Louis Cole's discography includes cornerstone albums from 2010-2012, his collaboration as KNOWER(with co-member Genevieve Artadi – vocalist and multi-instrumentalist), a song for the "Lego Ninjago Movie", Thundercat's Buses In These Streets, Seal, Janet Jackson, and more. The audience was witnessing a true paradigm shift, with a sound, performance and compositions that originally started as uploads to YouTube, and now – a momentous shift to a mainstream audience – translating at NJF live with a "3-ring" stage presence and solid "we can do anything" orchestral talent, with Cole at the helm, shouting to his audience occasionally, "this is the circus moment".  It was all that and more.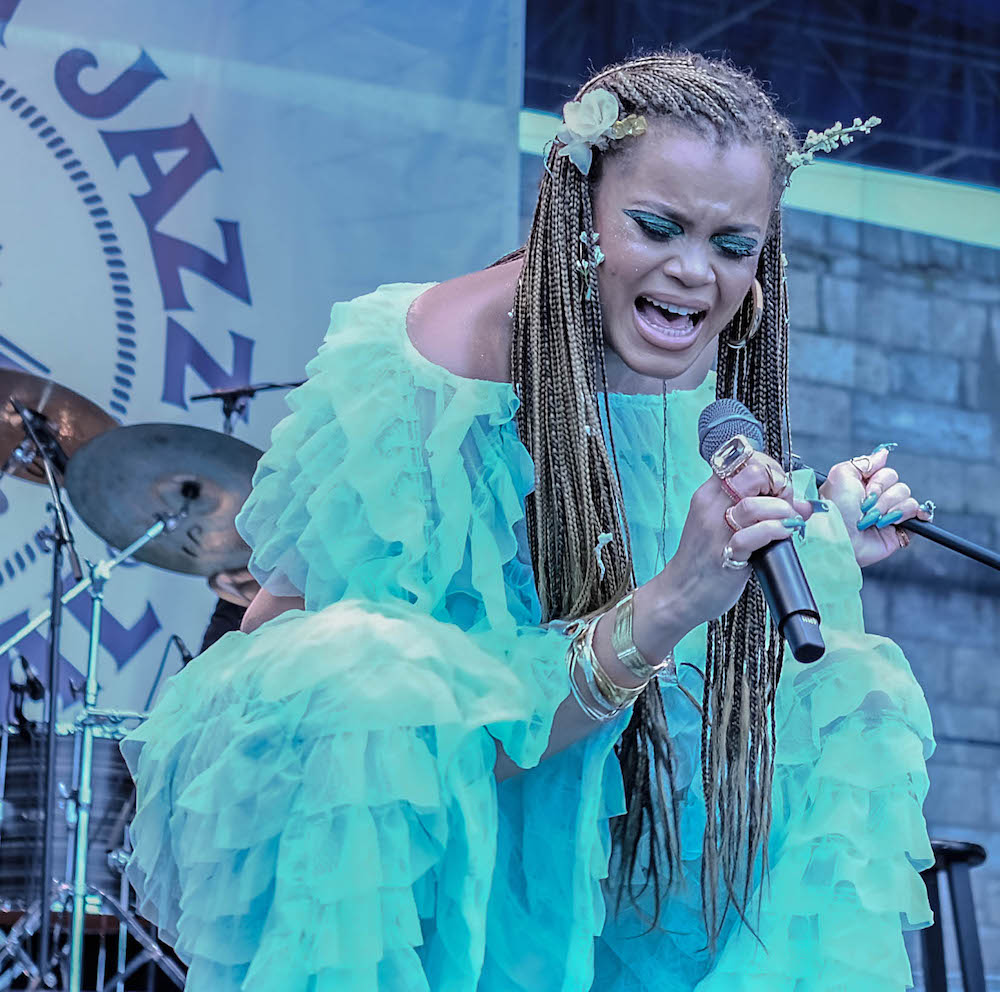 2) Retro soul singer Andra Dayarrived in force, fresh from her full-length debut "Cheers to the Fall" [Buskin Records / Warner Bros. Records] which garnered a 2016 Grammy Award nomination in the category of "Best R&B Album,". A discovery by Stevie Wonder, with beginnings in her church choir, and now soaring on her athematic Platinum lead single "Rise-Up", Day delivered a powerful set. Ms. Day created hushed attention when she spoke from her heart and in a song – about anger over police shootings of un-armed African Americans in the U.S. and then paid homage to Nina Simone and her "Mississippi Goddam" composition(the 1963 bombing of a Baptist church in Birmingham that killed 4 young black girls). In a scorching emotional vocal venting. Day was accompanied by a blistering gnarling guitar/bass and drum exchange to heighten the message of outrage. With a natural poise on stage, Day then launched back into more soulful R&B selections from her debut "Cheers to the Fall" and continued to "Wow" the audience with her vocal pipes, and driving funky band, scaring away the rain and winning a wider audience.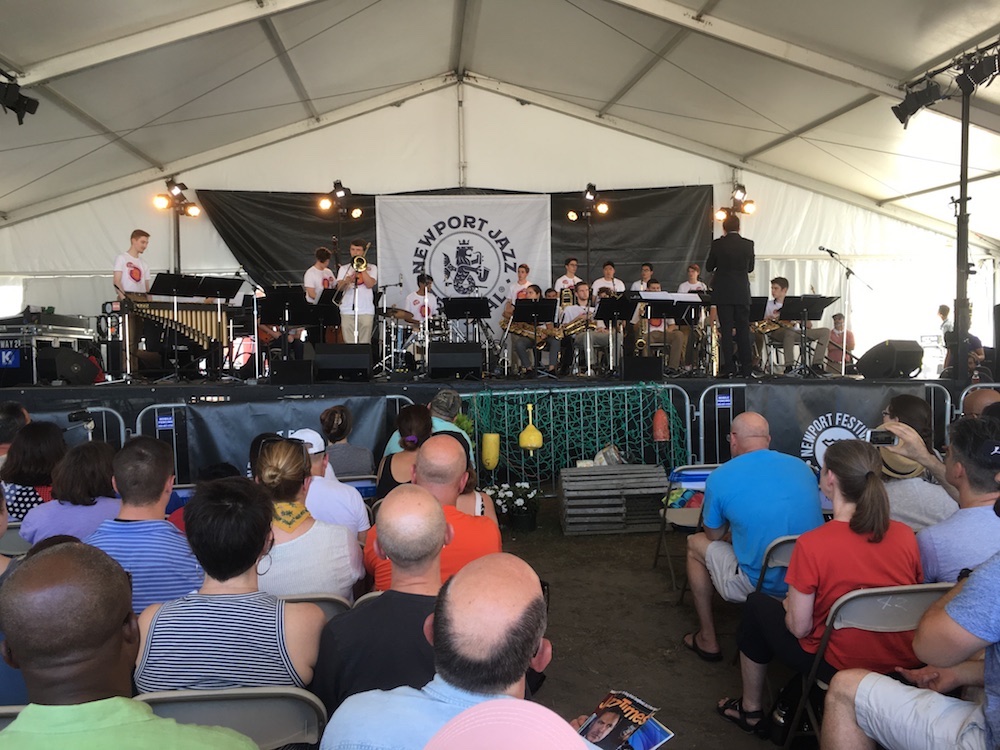 3)Darcy James Argueconducting the MMEA(Massachusetts Music Educators Association)
If there was ever a doubt about future talent and dedication to the study of jazz music, Darcy James Argue and the students of Massachusetts Music Educators All State Jazz Band – showed that there was nothing to fear. Mr. Argue, award winning orchestral jazz arranger and composer(Grammy nominee, Doris Duke Performing Artist Award 2015, Guggenheim Fellowship in Music Composition 2015) has given his conducting direction to great result. On-stage talent was shining as Argue moved through a rich, diverse jazz selection and interpretations, ranging from Radiohead's "Where I End and You Begin", to Duke Ellington's "Sepia Panorama". Argue's efforts to feature many instrumental solos paid-off with stylistic and mature phrasing from these young(and future?) jazz musicians, already showing promise and passion. Showcased talent included featuring musicianship on trumpet, saxophone, trombone, guitar and keyboards(seek out schedule of upcoming performances at massmea.org). Argue closed with his own composition, "Transit" – aptly written while he was a student commuting by bus from Boston to NYC while studying composition under legendary jazz teacher and trombonist Bob Brookmeyer at the New England Conservatory of Music, in Boston. Closing the set, showing the sweat of their efforts, Argue had the student ensemble take a bow, for a richly deserved standing ovation.
Female musician Talent featured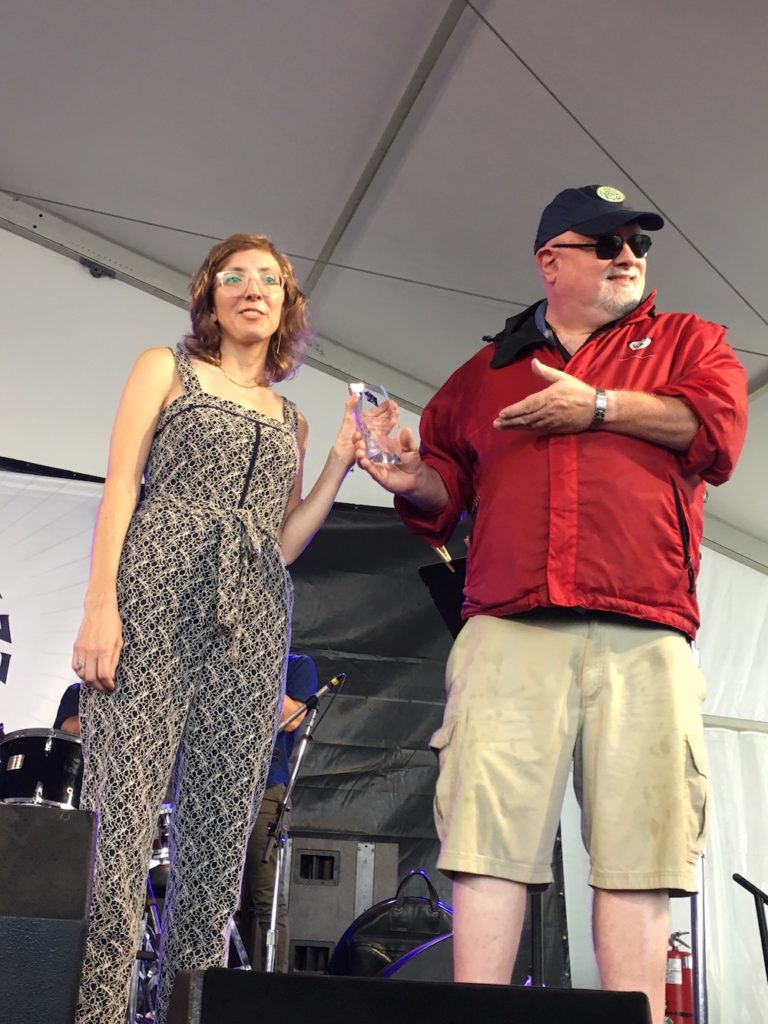 1) Mary Halvorson, avant-garde jazz guitarist, arranger and band leader,has been called "NYC's least-predictable improviser" (Howard Mandel, City Arts), and "the most forward-thinking guitarist working right now" (Lars Gotrich, NPR.org) and has topped four categories in last year's 2017 DB Critics Poll. Halverson wasted no time in setting an experimental tone to her set, laying down guitar tracks with a delay and then running over them with frenzied scales and stinging single string staccato. If the audience wanted to be comfortable, this wasn't the place. The other band members followed suit with atonal interpretations, spinning off Halverson's minimal direction in over-dubbed guitar tracks.  Ambrose Akinmusire, mentored under saxophonist Steve Coleman, with synthesized trumpet, was blowing scat sounds out of his horn while soaring, wailing, beat-like poetry and beautiful single notes came from vocalist Amirtha Kidambi, an established talent, improvisor and composer in her own right. Additional eclectic musicianship included bassist Michael Formanek and drummer Tomas Fujiwara both weighing-in with rhythm but also featuring their instruments individually. Halverson played some selections from her 2018 release "Code Girl" but let loose with experimental ranges, succeeding in not allowing the audience to find a reference point, but instead, forcing them to experience the moment. It was Halverson's show, on stage, no fear, directing her own course, clearly on her own march, and establishing herself as "one of today's most formidable bandleaders" (Francis Davis, Village Voice).
2)Nicole Mitchell's Dusty Wings
Flautist, composer and bandleader Nicole Mitchell, named multiple times in DownBeat magazine in the "Rising Star" category, won the 2018 DB's International Critics Poll for Flute Rising Star, Jazz Group, along with accolades for her powerful and intense integration of African sounds and musical landscapes on her Black Earth Ensemble 2017 album "Mandoria Awakening II: Emerging Worlds". Backed by Fay Victor on vocals, Taylor Byum on cornet, Rashaan Carter on bass and Shirazette on drums, Mitchell evoked a tight quintet of channeled musicians, punctuated by Mitchell's soaring and effortless range on the flute. There was no escaping an ethereal sense and meditation in sound with the soft melodic "Aqua Blue" to start the set. But Mitchell quickly moved into other territory that included some fine scat interpretations by Fay Victor with experimental high-pitched horn-vibe, reminiscent of Miles Davis, coming out of Byum's cornet. Mitchell also surprised the audience with spontaneity in composition, with "Intuition" which had been written for today's performance, which featured Mitchell with light bursts of flautist soloing, following with experimental avant-garde exchanges and inter-mixing of instruments with the band members. The set characterized the "Free Jazz" of taking chances, not constructed, particularly with exchanges between Mitchell's flute flurries and virtuoso vocalist Fay Victor, whose use of the human voice was an expressive art-form. "I definitely feel a connection between my voice and the flute", as previously stated by Mitchell, "I have singers because I don't feel comfortable singing things myself…there's definitely a lot more to figure out"(DownBeat, Aug. 2018).  If discovery is a process in all music, Mitchell's set was way into that journey.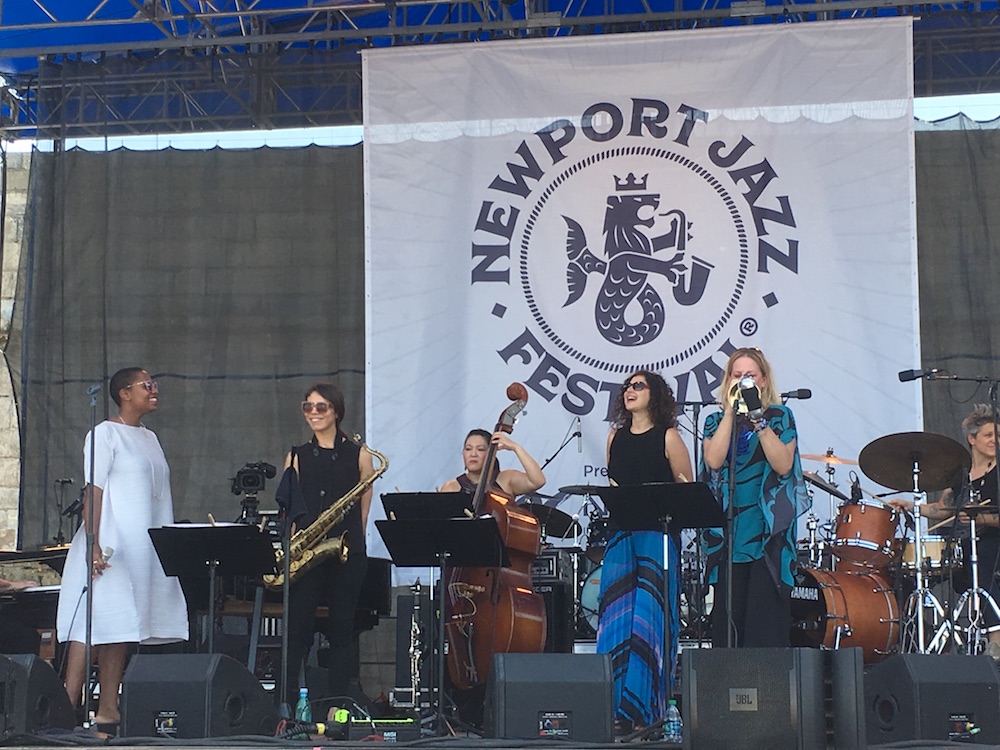 3)Artemis featuring Cécile McLorin Salvant, Renee Rosnes, Anat Cohen, Melissa Aldana, Ingrid Jensen, Norika Ueda and Allison Miller
An All-Star line-up, comprised of "seven of the finest performers in jazz, gender irrelevant"(Newport Jazz Festival, 2018). With a BIG presence on the main stage – each musician delivered blistering chops against the extraordinary keyboard stride piano playing of Renee Rosnes(also musical director of the band) allowing for incredible solo efforts by stellar horn players: Canadian multi-Juno nominated jazz trumpeter Ingrid Jensen, who's toured with Clark Terry, Bill Taylor and Maria Schneider's orchestra, along with Chilean tenor saxophone player Melissa Aldana, who's performed with Christian McBride, Jimmy Heath and Wynton Marsalis, and Israeli multi-Grammy nominated clarinetist Anat Cohen, coupled with Japanese bassist Noriko Ueda, member of the DIVA Jazz Orchestra and BMI award winner, and a relentless and punctuating drum beat by NYC-based drummer & composer Allison Miller, who has toured with Doctor Lonnie Smith and Marty Ehrlich.
To top off the top-drawer line-up, special guest vocalist, the 2018 DownBeat Jazz Album & Female Vocalist, brilliant phrasing and vocal interpreter  – Cécile McLorin Salvant.
Each musician got their chance to steal the thunder. Canadian Blue Note recording artist Renee Rosnes, previously in Joe Henderson's Quartet(1986) and in Wayne Shorter's Band(1989), also artistic director of the Oscar Peterson International Jazz Festival in Ontario with many Juno awards to her name, took the helm of the main stage. Rosnes launched the band into Monk's "Brilliant Corners" which allowed all horn players great licks and additional flourishes from drummer Allison Miller. Rosnes then led into a quieter piece of her own entitled "Galapagos"  which took the mood of jazz to a serenade with lovely melodic runs on the keyboard by Rosnes. Moving to a contemporary jazz interpretation of a pop song, Lennon and McCartney's "Fool on the Hill", gave way to shared versions from horn to horn and with a thumping stand-up bass solo by Ueda, and closed with blinding fast snare beats and a mini drum solo by Miller.
Salvant had several opportunities to show her vocal range, timbre control and texture of emotion, including a particularly moving composition and live version of her "All Through The Night".
The power, sensitivity and passion were all present on stage – no one held back and nothing was left "on the field".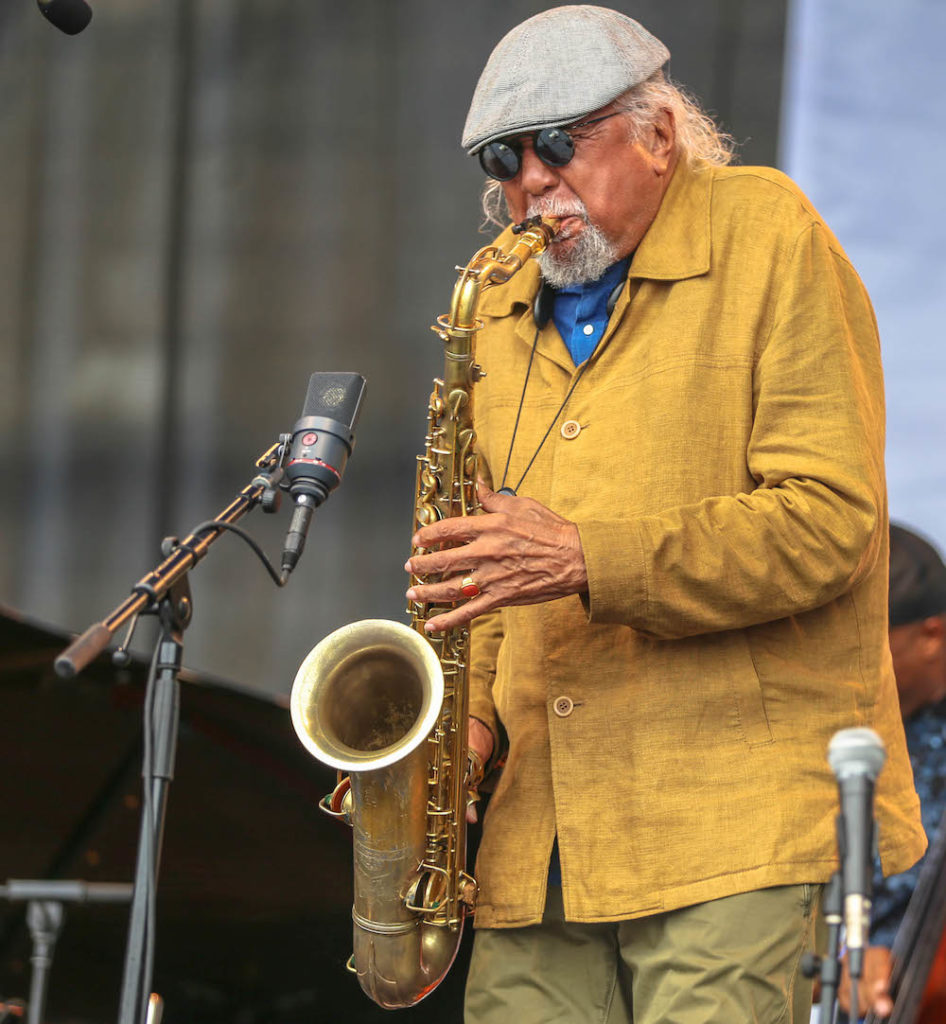 Old "faces" and legendary jazz musicians were on stage as well with their special "magic", including masters Roy Hargrove, Charles Lloyd and Harold Mabern but the contributions and injections of "new" blood and artistic expression held sway on many stages this weekend. Also, the sheer strength, instrument mastery and unique interpretations of jazz and other styles by rising female talent, coupled with established superb female performers and ensembles, weighed in significantly.  All musical signals pointed to a clear and positive direction for the future of jazz and with the Newport Jazz Festival remaining at the epicenter.