New England Conservatory in Boston is recognized as one of the top music schools in the country, and at the forefront of leadership in educating and training musicians of all ages from around the world. NEC's music students represent more than 40 countries, and per its mission statement, it "cultivates a diverse, dynamic community for students, providing them with performance opportunities and high-caliber training by 225 internationally-esteemed artist-teachers and scholars." JazzTimes has stated, "NEC's jazz studies department is among the most acclaimed and successful in the world."
The Jazz Studies program, a competitive and highly regarded degree area of study at NEC, allows students to choose a specialization such as jazz composition, jazz performance, and jazz vocal performance.
NEC's Artist-in-Residency program has evolved to include many of the jazz world's most accomplished, influential, and trailblazing performers and composers. In effect, a list of "who's who" have participated, including the teaching of masterclasses on a wide variety of jazz-related content and workshops, live performances among them. NEC AR alumni include legendary Grammy award-winning jazz bassist and composer, Dave Holland (Visiting Artist-in-Residence), who played with Miles Davis and also performed with Chick Corea, Anthony Braxton, Thelonious Monk, and Stan Getz. Previous years' attendees have included multi-Grammy-award and DownBeat-award winning jazz big-band composer, conductor, and pianist Maria Schneider; acclaimed jazz vocal virtuoso and also multi-Grammy and DownBeat-award winning artist Cécile McLorin Salvant; Kennedy Center's Artistic Advisor for Jazz, modern jazz pianist, innovator, composer, and educator Jason Moran; and multiple award-winner of DownBeat's Best Guitar International Critics Poll Awardee, avant-garde composer, arranger and performer Mary Halvorson.
WICN recently interviewed several participants in this unique and exceptional component offered to jazz studies students at NEC. Recently, Artist-in-Residence jazz flutist, saxophonist, and composer Anna Webber led a February 2022 Master Class entitled Idiom: Unifying and Integrating Compositional and Improvisational Language and conducted an NEC Jazz Composer's Orchestra performance with student musicians at NEC's Jordan Hall. Her musical interests and work, as described by the NEC's announcement, "live in the aesthetic overlap between avant-garde jazz and new classical." Webber is a 2018 Guggenheim Fellow, was recently named a 2021 Berlin Prize Fellow, and also was voted the "Rising Star" flutist in the 2020 DownBeat Critics Poll.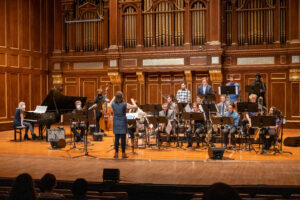 Here are excerpts of WICN's conversation with Anna Webber about the AR (Artist in Residence program) program at NEC:
WICN: In view of the role of an AR resident at NEC, I was reflecting on a quote by NEC faculty member and vocalist Dominique Eade, "we're trying to keep music alive – not teach it to death." How do you help young artists with their musical ideas without weighing them down with instruction? From your view, what is the balance?
Anna Webber: I feel there is a real advantage being a guest in residence as opposed to being an actual faculty member – in that, I'm just invited to talk about my stuff which is easy for me – because I'm at least an expert in my music, if not other people's music. I feel that my role as the AR is to just share a little about myself, my life, my process – the kinds of things that inspire me with the hope that this is inspiring to the students. I mean that's the goal, whereas if you're actually a faculty member, you obviously go beyond sharing about yourself and encourage them to become their best selves and not a copy of you or following some traditional set of rules that are hard. So, in many ways, I feel the AR is an easier job.
WICN: As you stated in your NEC workshop, "both composition & improvisation come from the same brain." Do you see a tendency for young jazz musicians that you instruct or mentor, to jump to improvisation at the expense of composition and structure?
AW: As a jazz composer and performer – we or I – when you're writing music you get to create a vessel for yourself as an improviser. And both those things come from the same brain. So that if I'm writing music for myself, I should be creating the most perfect vessel for myself. Who else could make a better vehicle for me to improvise upon it, if not me composing? Often younger, less experienced composers assume that improvisation has to happen within a piece and that "Oh – this would be a good place to do it – so let's just open it up for solos" and then have a bunch of people playing over the same form. Whereas a sign of more thought-through composition – music that I love for sure – gives a little more thought to create in a unique individual space for each improviser who will be improvising in a given piece. Whether or not the piece spoke to one person or a given group of people – or could be for anybody. The idea is that there doesn't have to be improvisation in the piece – like you're including it because it's necessary to the composition and that it's not just about giving people a chance to "blow."
WICN: Does your musical association with NEC during an intensive period like this lead to ongoing connections or mentoring relationships with faculty and in particular, students?
AW: Yes – I'm certainly open to it – it's a little too early to say whether something long-term will come out of this. NEC is really one of the best music schools in the country and the level of the students is very, very high. And I know many people who are recent graduates of NEC that I play with, and I imagine many of the people I'm meeting this week will be people I consider my colleagues within a very short number of years. I don't doubt, the improvised music world being what it is, this won't be the only time I'm interacting with many of these students, and also know several faculty members here… I think it's important to come to this AR and not "bringing wisdom down on high" but instead the people that you're talking to are your future colleagues. These are people, hopefully, you'll be sharing bandstands with and going on tour with and making music with for years to come. It's not just dropping in and telling them (students) "what's up" – it's potentially developing long-term musical relationships.
I mean I can remember being a student, and musicians did workshops in my college – and maybe it wasn't an immediate thing, but there are people that I saw give talks then that were really inspiring that are now people that I play with now that I consider my colleagues and friends. It can be a very powerful experience for a student to develop a connection.
WICN: As you're experiencing your NEC AR now and, at the moment, what do you feel makes this program unique?
AW: My observation is that NEC has a much more "open to experimentalism" curriculum to it than a lot of other jazz programs across the country – which fits in with my aesthetic – for sure.
I think having the contemporary improvisation stream is one of the things that people can do here (NEC) and really helps with that. Yeah – people aren't just trying to play bebop licks – people are encouraged to find their own voice, and whether or not that "voice" is a little weirder than other voices – it's encouraged.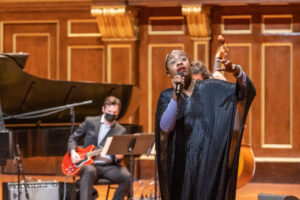 WICN also had the opportunity to speak with two NEC students currently enrolled in the Jazz Studies program: Seulah Noah, a pianist pursuing a Master of Music in Jazz Composition, and Hunter McKay, a saxophonist pursuing a Doctor of Musical Arts in Jazz Composition. Below are excerpts of WICN's conversation with both students:
Seulah Noh is enrolled in Masters of Music in Jazz Composition, NEC.
WICN: Tell me about your direct experience with NEC's Artist in Residency program.
Seulah Noh: 2019 was my very first semester at NEC, and I received an email that the jazz bassist Dave Holland is doing his Artist in Residency and he's an amazing player, but at the same time he writes some incredibly great music, which I always wanted to talk to him about. So, I heard that there was a very intimate open forum master class with composition students only.
I brought one of my big band pieces that I composed years ago to show to him and get some feedback, to hear his process about writing. I just loved the fact that NEC offered some events for compositional students only, considering that I also went to Berklee College of Music for my undergraduate degree, and back then I felt that most of these events were focused very much on the performance major students. So, it was such a great opportunity to actually sit down and have this composer's conversation and to be able to ask him very specific questions like "how do you write this material? How do you come up with your ideas? And what would you do if you were in my position on my piece? Do you hear different things?" He was very, very detailed in the conversation we had, and that experience said to me "wow" if I had other opportunities to do this at NEC, I would certainly do it again. That one master class really opened up my eyes as a compositional student and he really encouraged me in many ways.
WICN: In general, recognizing the busy schedules of AR musicians, are they reachable in the future, for some continuity of feedback or further questions students may have?
SH: The masters' musicians I've met through NEC, I sometimes can email them to ask questions or just to say "hi" and also to reconnect with them where they are performing. We did another residency last semester with the jazz vocalist Cécile McLorin Savant, and I was able to perform one of her pieces with another singer/vocalist student at NEC and we were able to have this private rehearsal two times with Cécile. Again, it was like a one-on-one lesson you know, and she was so glad that we were performing her piece and even after the concert she said, "just email me or whenever you need advice or just need to chat about your music." She was very open to that and just to hear those comments from a great master vocalist – who you just work with for a very short period of time – I was very grateful that she was willing to keep this connection with us.
WICN: How would you speak to another prospective student about your experience with NEC's AR program and the AR concept in general? And how important is it to interact with professional musicians in this type of musical exchange?
SH: First off, I would like to say "don't be afraid of it" because a lot of time, especially with compositional students, you need to bring your own materials to show. But it's not like a critical clinic – like you're going to get judged by this great composer. It's not about that – but I know the feeling, as I was so nervous to bring my piece to Dave Holland for the first time. But it is intimidating, but also so valuable to show your work to someone you have high regard for. Every time I did it, I got so much constructive, positive, encouraging feedback from them. It can really open up your eyes and lift up your self-esteem – as a composer and a creator. I would emphasize to students, try to go these masterclasses as much as you can and don't feel like you have to prove yourself. You're just there to get their insights and perspective and learn.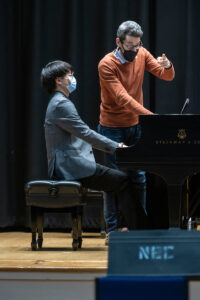 Hunter McKay is enrolled in Doctor of Musical Arts in Jazz Composition, NEC.
WICN: Tell me about your direct experience with NEC's Artist in Residency program and about the value of this experience.
Hunter McKay: My most recent stand-out was with Anna Webber. It was so cool to work with her. I was in the big band, and I got to play and rehearse with her for a few days (for a performance held on February 8, 2022, at NEC's Jordan Hall) which was a great experience. She's an amazing musician, just a great person and very down to earth, and very efficient in rehearsals. I felt the whole band just respected her a ton and really engaged in the music and was really "into it." And I thought that was really cool, especially because it's very adventurous music. It might have been outside of the comfort zone of many of the musicians and people in the audience, but everybody was on the same page, and we wanted to execute this well and that was because of Anna and the way that she held herself in rehearsal.
WICN:  Have there been other AR programs that you've been able to take advantage of?
HM: The AR musician from last year that really made a huge impression on me was Maria Schneider and that was amazing. And the fact that we (NEC's AR program) had Maria Schneider last year and Anna Webber… these are all my heroes as far as composers and musicians go, and is a little bit surreal that I've met these people when before they were just people that I really looked up to and wanted to be like as a musician, so it's been really great. Sometimes you hear "don't meet your heroes" but here (NEC), it was just the opposite – they just inspired me to do what I'm doing, even more.
So, when Maria Schneider was here – she especially got me into writing for big bands because she's such a huge intellectual writer in that world. We had a great experience where a few of us composers got to have a meeting with her and play her some of our music and she was very, very invested in just helping us and very interested in listening to our pieces and gave lots of instructive feedback. It was like the perfect blend of encouraging but also critical in a great way that I can use going forward. So, having someone like Maria Schneider take the time to help you like that is amazing and I feel it's the rare opportunity of being in the jazz world versus other media – we get to interface with the heroes of our generation. And have NEC bring these great artists and they are totally willing to, and even excited to, make education a part of their career.
WICN: What is the format of each residency? Do you meet one-on-one or in small groups or both?
HM: It varies and depends on what degree program you're in and what instrument you play and your schedule, and what the artist is there to do as well. Whenever there's a composer, he or she will invite all of the people in the composition program to have a small class just for the composers to discuss more detail.  Often time we will play our compositions for them and that's what happened with Maria Schneider. I got to talk with her for about 45 minutes about a piece I played for her, and she gave me a wealth of feedback that was so valuable – and I'm still working on implementing everything that she suggested and of course, she was never like "you need to change this note," nothing prescriptive – it was all very open-ended suggestions that I can apply in my own creative way.
Same with Dave Holland – NEC sent out an opening call that if you wanted to play a piece for him you could – so I got to play one of my compositions for him and get his feedback from him and the rehearsal process.
With Anna (Webber), her music has a very different approach and so her classes were very focused on talking about her approach and everything that she does differently – her rhythmic approach and all the influences she has from classical music.
WICN: From a personal level, how have you shared your AR experiences with other friends and family?
HM: A lot of my friends are people who have introduced me to some of the musicians I've been able to meet through the program. One of my closest friends from high school came to Anna Webber's residency performance and he's been a big fan of her as well. I've definitely shared my experience with other people in my life and especially my parents as they are not musicians and not necessarily steeped in the jazz world – but they are very, very supportive of everything I'm doing. So, I'm always talking to them about favorite musicians and then, after hearing me talk about say Maria Schneider for years and then to say, "Oh – yeah, Maria Schneider is coming to NEC!" – which was really exciting for my mother because she knows how important Maria has been to me as a musician and composer – knowing how much it means to me.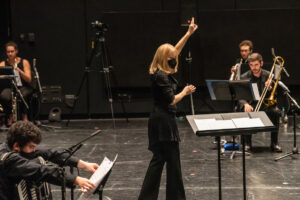 Ken Schaphorst, NEC's chair of Jazz Studies, Jazz Composition, and Director of NEC's Jazz Orchestra spoke with WICN as well, sharing thoughts and observations about the experience and value of the AR program. WICN's conversation with Mr. Schaphorst is excerpted below:
WICN: How did the Artist in Residency idea/concept evolve at NEC?
Ken Schaphorst: From the very beginning of the program in 1969 they occasionally had guest artists. When I started in 2001 the program was in place – an endowed "once a year" residency. Artist Residence worked with students in small groups, preparing them for performance. Some of the more recent guests at that time had been Benny Golson (tenor saxophonist, composer, NEA Jazz Master), Steve Lacy (soprano saxophonist, composer, virtuoso, and significant influencer of his instrument), who then joined the faculty. We have a certain amount of funding every year but, based on my own experience, we are able to do more if we receive funds earmarked for the Artist in Residency program. Another semi-regular event is guests (artists) who come and work with the big bands. Anna Webber was the first time that an AR came and worked with the Jazz Composer's workshop. I hope we can continue that. We've had guest performers, such as Bob Brookmeyer (legendary trombonist, pianist, arranger, composer, and educator), who was the original director of that group, and Scott Robinson (highly regarded multi-instrumentalist), a well-known baritone sax player who played with the jazz composer's workshop.
WICN: What do you look for in selecting an Artist in Residence?
KS: Specifically, sometimes I know the guest artists (AR) and sometimes not and find them through recommendations from NEC faculty. I'm looking for any teaching experience because in any case, they'll be some instruction for master classes in addition to the group (of students) performing with the AR's music. In a lot of cases, we are simply looking for a musician whose music will inspire the students. Inevitably, it ends up being music that inspires me or Frank Carlberg (faculty, pianist, composer, and teacher who directs NEC's Jazz Composers' Workshop Ensemble). It's hard to imagine I'd invite someone whose music I'm lukewarm about, as there is so much great music out there. And sometimes students mention "Oh – it would be great to have so and so" and sometimes that makes a difference to the selection of upcoming guest artists.
WICN: What would you say to a prospective student, is the vital benefit of participating in the AR program at NEC? Or an AR program in general at any music school?
KS: I would say there's two reasons. One is because the teachers and faculty have ongoing relationships, I like to think that I'm honest with students when I tell them that they (students) can do better or work harder. However, I think that one of the things that the guest artists have, that as faculty – I don't have – is complete objectivity in a way. They're just coming and meeting these students for the first time, hearing their music and hearing them play, and I know from personal experience that the AR will tell a student that "you know you sound great but here's this one thing to really work on." I think that kind of objective and honest feedback from an outsider can be really helpful. The other reason is that they (students) are all envisioning themselves being in a position like Anna Webber and Maria Schneider or Dave Holland or Cécile McLorin Salvant – it is sort of their dream. So, to meet these people (AR), and learn how they got there, and maybe how or what perspective they had that led them to this professional position, is very helpful and also inspiring. I think, in many cases, they (students) can see themselves ultimately growing into that role.
As these interviews reveal, the collaborative experience between faculty, Artist-in-Residence, and students is a valuable and enriching component. Though often requiring ongoing endowment, many jazz studies programs across the United States offer this unique opportunity for the professional growth of young artists. As the foundation and history of jazz developed in the US, and is our heritage, the continued innovative degree offerings by New England Conservatory and other music schools nationally and internationally are vital. Some of these very same next-generation jazz musicians will be future colleagues on stage performing, conducting, and composing, but as importantly will complete this cycle by returning as mentors for these very same programs.