It's not often that a musician can find inspiration in his favorite poet, compose a moving palette of jazz interpretations, while also sharing a distant relationship on the very same family tree. Jazz musician, drummer, composer and band leader Matt Wilson can make just that claim, with feeling and love for the American "poet of the people" Carl Sandburg, on his latest release 'Honey and Salt – (Music inspired by the poetry of Carl Sandburg).' Both Wilson and Sandburg were born in Knoxville County, Illinois, sharing Midwestern roots but during remarkably different times. Sandburg, born a decade after the American Civil War and witnessing the impact of the industrial age, then WWI, the Great Depression, WWII and onward to the tumultuous 1960's – supporting the civil rights movement in his 80's and becoming the first white man to be honored by the NAACP – had witnessed an extraordinary period of history.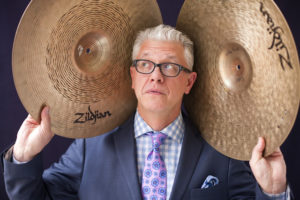 An acclaimed jazz drummer and Grammy nominee, Wilson's musical background has also included many roles as both band leader (the Matt Wilson Quartet, Arts & Crafts, Christmas Tree-O, Topsy Turvy and Big Happy Family), composer and performer. Wilson's 13th recording as leader for Palmetto Records, 'Honey and Salt', received a 5-star review from DownBeat magazine which called it "irresistible." Wilson points out that this creative thought process has been "germinating since 2001" with other projects and life taking up time. "Keeping it on the back-burner", he finally settled to complete the music composition process in the spring of 2016, also coinciding with the 50th year anniversary of Sandburg's death.
Wilson's Midwestern association with his rural regional surroundings lent itself to reflect on Sandburg's musings as a poet, and an interconnection to music. Wilson articulates the influence, "as you get older you start to appreciate regional connections a lot more, but I was always fascinated because it (Sandburg's poetry) didn't rhyme. That aligned with my taste in music at that time, when I was exploring all different kinds of music."
Hand picking a selection of poems from Sandburg's 1963 collection of poetry, 'Honey and Salt', Wilson brings to attention Sandburg's poetry with a small, beautiful and poignant sampling, putting verse to song and musical expression in a jazz context. Importantly as well, listeners may follow this 'string' as an attachment to the wider range of contributions by this esteemed man of words. Sandburg won three Pulitzer Prizes, a Grammy Award, wrote the definitive biography of Abraham Lincoln, won the distinguished Robert Frost Medal for poetry, created an anthology of American folk songs, American Songbag, published an endearing and hugely popular 'American tales' children's book, Rootabaga Stories, and performed and travelled the country collecting traditional folk songs. In Wilson's words, "Sandburg was a renaissance man and poet of the people. I feel sometimes that of all the celebrated American poets, he doesn't really get his due. Hopefully we can help his work get more recognition in some small way."
Wilson succeeds wonderfully, bringing Sandburg's voice alive with each interpretation on 'Honey and Salt'. The creative result is a stirring, at times gritty, heart-felt reflection in jazz tones, voice, rhythm and beat – that puts the plain-speaking words of the populist poet in front of the listener, (read by guest speakers and sung), evoking a powerful dignity and putting Sandburg in the room with you.
When the band of musicians was forming for this recording, Wilson had already started a musical connection with the powerful and soulful recording artist, vocalist and gritty, rhythmic jazz guitarist Dawn Thomson, who also has loved the verse and poetry of Sandburg (listen to her own "Sleep Impressions" inspired by Sandburg's poetry). Similarly, an extraordinary multi-reedist, Jeff Lederer, was in the mix as well, and then came bassist, NYU faculty instructor and cultural award winner from Germany, Martin Wind, and prominent jazz faculty member and high-demand trumpeter and cornetist Ron Miles from Denver. Wilson was ecstatic and humbled by the chemistry and talent assembled, "I was overwhelmed by the artistry and passion of the music on this album (Honey and Salt) – and blessed to have them."
Similar enthusiasm and accolades come from Wilson for the collaboration of guests including household names in jazz (Christian McBride, Bill Frisell, Joe Lavano, John Scofield and others) adding their own voice and inflection as they read aloud verses of Sandburg's poetry to the accompaniment of paired jazz beat, rhythm and improvisation, as Wilson observed,
"They all brought their own ways of interpretation."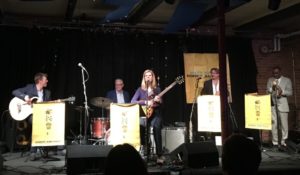 Some stand-out selections include 'Soup' about a celebrity just eating his soup from an observer's point of view, seen as just ordinary "folk" with a driving beat and sultry 'talking' jazz voice from Thomson, with bass and then overlay of horns – and additional gritty guitar from Thomson's hand. 'Anywhere and Everywhere People' remains contemporary in its message of self-adulation – as our leading political figures or other "wanna be famous" social media figures continue to feeding on narcissism. With funky backbeat driven by bass and drums, and competing eclectic trumpet and cornet chorus, a baritone voice delivered by Christian McBride (Grammy award-winning bassist, international jazz performer, educator, and artistic director of the Newport Jazz Festival) adds weight to the feeling. And then with the forlorn refrain in the poem "As Wave Follows Wave", Sandburg spells out the futility of destiny, "man's life is a candle in the wind… as wave follows wave… so new men take old men's places." With a beautiful dream-like serene trumpet introduction setting the tone, and acoustic guitar accompaniment, we, the listener, contemplate the journey.
Each song arrangement is a balance of interplay between the musicians and Sandburg's 'voice', setting a tone for the listener to experience the poetry as more than lyrics overlaying instrumental accompaniment. Instead, the musicianship and featured instrument or solos don't interfere with the sparse verse but punctuate the line breaks, with a driving drum beat or soft coronate solo – and when they mix together – both word and note – the impact of the weight and meaning of each verse is never lost. Delivering these lines with diverse and distinctive voices, the relevance of the poetic words from 'Honey and Salt' forces you to process an 'Americana' of Sandburg's generation that is still a reflection of who we are today.
Besides poetry, as Wilson points out, Sandburg loved jazz (played guitar and sang) –, and above all 'appreciated the moment' – which is exactly where Wilson's 'Honey and Salt' takes us.