As Wynton Marsalis approaches his 61st birthday, his career as an ambassador and curator of jazz history, its seminal importance and influence as an original American art form, has been both critical and essential.
Beyond his accomplishments as a supremely gifted trumpeter and composer, stellar performer & veteran band, and orchestral leader of top-tier talent – his involvement in a renaissance of related outreach and educational projects, puts him at the epicenter of any dialogue about jazz.
The roots of his musical background run deep, from his family in New Orleans, and particularly his late father and mentor Ellis Marsalis and his siblings who are all well-established artists, composers and performers. From his early days of musical development under the wing of jazz mentor and band leader of The Jazz Messengers, Art Blakey, to his educational dedication and vision for Jazz at Lincoln Center, where he became the artistic director in 1991, and leads its orchestra – jazz has been richly cultivated and grown under his watch.
His Wynton Marsalis Septet is currently on tour, combining familiar musical friendships and his passion for discovering new talent. Recently, Glide caught up with Marsalis before his show at Jimmy's Jazz & Blues Club in Portsmouth, N.H. – a state-of-the-art performance venue & elegant dinner club.
With the enormous range of musicians you've played with and the jazz bands and orchestras you've led – How do you approach a selection of compositions for the specific line-up of your current Septet tour? 
Carlos Henriquez(bass) and Obed Calvaire(drums) – we've played together for years, and I've known them since they were in high school. We also have four young musicians with us who really can play (Sean Mason – piano, Chris Crenshaw – trombone, Chris Lewis – alto sax, and Abdias Armenteros – tenor & soprano sax). As far as the main theme is concerned, we were just rehearsing, and Carlos (Henriquez) was just saying how well they play (younger musicians in the Septet). So, I'm just really looking forward to playing with them because when you get musicians on this kind of level – it's very rare. Every now and then you get a few together at once, but here – these kids are in their 20's. These musicians can really play!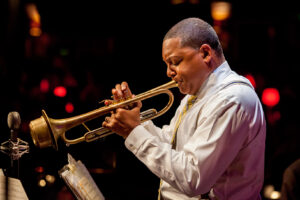 On a more personal level – I want to ask you about your instrument. How does the trumpet allow you to express yourself musically?
Well, each instrument has different characteristics. And people tend to gravitate towards instruments that are more like their personalities. The trumpet is a lead instrument – it's loud, it plays fanfares, but it can also croon and play sweet things as it has over the years. It's a heralding instrument, as in you wouldn't say that about the flute. I wouldn't say exotic because that doesn't mean anything. It has an internal sound. In an interesting way, the oboe and the trumpet are related – they have the same type of basic register. The trumpet goes lower and just as high. Ultimately, each instrument shows its own characteristics.
I recently interviewed modern jazz musician & composer Anna Webber, during her Artist in Residence at New England Conservatory in Boston. In her workshop, she commented that "both composition and improvisation come from the same brain." 
How do you view this relationship as a composer and performer?
Improvisation is talking and playing and writing. You write a letter, and things you can naturally say, when you go to write that letter, are more difficult. They do come from the same brain; however, it takes a different type of discipline to write things down. Both are challenging, but when you write it down, you only write down what you would improvise, except you give it a certain type of form. Exactly like when you're writing a letter – you try to make the letter sound as natural to the sound of your voice as you can. And it's not the same as when you're just talking. And improvisation is also the creation of form and logic when you're playing.
But improvisation in jazz with a group is different – it's more about how you relate to a group on the spur of the moment and in the moment. 
Composition is a contemplative art. You take your time, work at it, you look at it, you revise it. That's not a thing you do when you improvise.
As you have been so centrally and passionately involved in cultivating jazz for a lifetime, by using a host of different resources, lectures, educational development, and countless projects, and now your on-going role as director of Jazz at Lincoln Center and its Orchestra… 
From your point of view, is jazz in a healthy place right now? accessibility-wise and exposure-wise?
No – from my opinion we need better. You know the country is not in a good place right now. Just like we need to know what's exactly in our constitution, art forms need to be maintained. We need more education of the substance of our art and that's why we try to do such much with education at Jazz at Lincoln Center – rather than complain about it. We try to do what we can to get attention and energy – to get a more informed listenership.
And I've always said over the years, that the music is connected to the health of the country. 
When the country is struggling like this, the music is going to struggle. For you to figure to take an afternoon to go listen to people play jazz at a festival or wherever – there are (currently) so many more distractions that are more immediate, more things blowing-up within our system here. You hear people are telling tales of such extravagant lives, whether it's true or not, and people seem to thinks it's quaint.
You think about language. There was a time when jazz musicians were the only people who used vulgarity a certain way. Now it's every day, in front of us. Some of the stories you hear people tell about their lives in an informal way – it's the most intimate parts of people's lives.
So jazz is in a tough place right now. However, it's an art form and art forms go through tough times, and they continue – you know? 
Are jazz festivals living up to their responsibilities to be offering a standard or becoming more commercial?
The music is conversational when it's really being played, but a lot of the jazz festivals at this point – they're not playing jazz. It's like the country itself. I'm not blaming them or complaining about them – they're trying to make money. It's like what the country will learn, there's a place for business – but everything can't be a business. 
It's like everything can't be a perimeter – how much security are you going to have when everywhere you go you need IDs, surveillance, and metal detectors. At schools you have security guards, you have the police force. At a certain point, you can't defend your entire nation. You're much better off strengthening your own local community to prevent crime. A lot of manual work.
Like with the country right now – the music is difficult, and like the constitution is having a hard time – as nobody seems to know what's in it. 
With the constant flow of interpretations and shaping of jazz by new and upcoming jazz musicians, who are mixing with other hybrids of music- how does jazz stay true to its tradition and foundation? and not evolve into something else?
Well, this foundation is hybrid. So, jazz naturally lends itself to hybridization. The question is, as with any form of hybrid, is there balance and proportion. In perpetuity, all the foundational documents, things that are serious about art – they always require of us to exhibit an understanding of how the fundamentals exist in proportion. So, it's not proper to say "this has enough jazz in it or too little" – that's like at what point does a soup become a broth. For the sake of argument, it's like the question of what gives the balance of the type of constitution we have? It's the desire to find a balance so big things don't always dominate little things. And that's the fundamental thought behind the document. How to level the playing field.
But if we start to lose sight of the point of it (the constitution) and argue every little point – then the constitution (like jazz) could be anything.
So, the question is not to make the art more mysterious and water it more and more down. But to have enough learnedness to know what proportions are optimal for the art form. There's no perfect form of jazz – it was a hybrid to begin with.
With all the current division socially, economically, and politically – is jazz or the arts still able to be an agent for positive change (I'm thinking particularly of Chick Corea and Wayne Shorter and how they felt and expressed this belief)
Of course, it is, because jazz means all the jazz that has ever been played. Can Shostakovich's music still be a change agent – yes. Can Duke Ellington's music? yes.
It stays around. And even now with us playing with young musicians, it's different.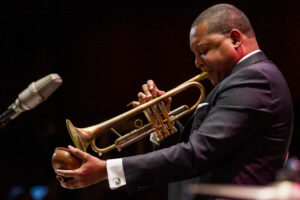 Now we're so separated into groups – age, race, beliefs, gender, political beliefs, and economic class. And every group is being marketed to – every group is curating their experience on earth based on what group they are.
The music can help us see and realize different things and not necessarily what's played tomorrow night or the next night. As music exists in recorded form there are many ways to get involved – as jazz is recorded by international musicians all over the world and played by a lot of different people.
In terms of what's alive for us – we don't necessarily need or want to go back to Napoleon's time period, but we can still listen to Beethoven.