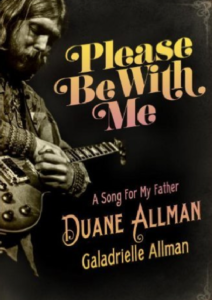 "He could play rhythm, acoustic, anything you want,"… "He couldn't read a chart but he had this amazing talent. You hear this all the time but Duane really had it. He'd hear a song one time and you didn't have to tell him – you play any chord in the song and he would know right where it was."
-Jimmy Johnson, FAME Studio's House guitarist & producer of Hour Glass demos.

'Most slide players are muddy,'… 'Their playing sounds sour. Duane is one of the very, very few who played clean, sweet and to the note."
-Jerry Wexler, Producer, Atlantic Records

"I mean I couldn't understand it…He would do – I really don't know how to describe it(reference to the guitar notes hit by Allman on slide for "Layla" recording sessions). I loved the fact that he was an improviser… He threw away tradition a lot of the time. You know he was fantastically gifted."
-Eric Clapton, "Layla" recording sessions

"He was the foremost electric slide guitar player… all the way around."
– Dickey Betts, founding member and guitarist of The Allman Brother's Band

"It's always great to get a glimpse of something in somebody's formative years, …with Duane Allman, who was here such a short period of time, you see the growth: He was great in 69', but he was better in 70' and in 71' he was way better still, so who knows what 72' and 73' and 74' would have brought…his ability was increasing at an exponential rate."… "He was a huge influence on me."
-Warren Haynes – founder of the band Government Mule, and guitarist/ singer of The Allman Brother's Band since 1989.
These are some of the first hand acknowledgements that have come to describe Duane Allman, his guitar playing, his musicianship, and finding few other peers (i.e. Hendrix, Clapton, Page) – a definition in itself of being exceptional. Following in parallel, is the consideration of the explosive creativity signified by the 1960's and early 1970's. A chapter that closes a particularly crowded field of great musicians, bands and notably – lead guitarists – of this same time period. And yet Duane Allman still stands tall on a short list. But in a life tragically cut short in 1971, at the ascending rise of his star, with the accompanying frantic pace of performances and demands for his time – to record, to sit-in on a session, to collaborate with a musician in NYC, after finishing a concert in Atlanta the night before, or finding a moment to just to jam with a friend, and then off to catch the next flight to a gig, and on and on – How do we ever come to know him? – without reflection, or a chance to peek backwards.
Galadrielle Allman, the daughter of Duane Allman, in her book "Please Be With Me : A Song For My Father" takes us past our own limited access, stepping around the well-worn image of the legendary leader and front man of the Allman Brother's Band. This is a wider and more human story, about a daughter's search to know her father. But not as we do, the listening audience – our knowledge is that of accolades of his musicianship, now almost folklore in stature. Galadrielle Allman's quest is more pure and compelling. It is a journey of research and writing of 5 plus years – un-covering a narrative of incredible power, revealing the intensity with which Duane Allman lived his life. But most importantly, the narrow picture that we've had as the audience to his stage is enlarged enormously, and the breadth of the many moments and the interconnections of an extraordinary timeline, are tied together. The result of Ms. Allman's very poignant and personal account is a vivid storytelling, that creates a pulse – beat by beat – from the first page. We are intimately with her, through the amazing range of her father's associations, collaborations and impact upon musicians, record producers, and the complex relationships with family and friends – and the Allman Brother's Band, un-covering to us, its own family as well. All of this Ms. Allman manages to share with us in honest detail, while still bravely, not holding back, the emotion of a loss and love that she carries with her every day.
What takes place between these pages is a family tree, that moves us emotionally, as several generations of Allman relatives, friends, wives, girlfriends, roadies and band members, et al, take turns sharing accounts of his life, without pretense. No more direct an account is that of Mr. Allman's relationship, marriage, and later divorce from Donna Allman, the author's mother. I found these passages about their short life together some of the most piercing and boldly honest treatments of this narrative. I think that anyone who listens to the audio CD of the book, in particular, as I did, cannot help but be affected compassionately by the tone and expression of the author's voice, as she describes the conflict of these two lives.
At the beginning of Mr. Allman's life we find his parents struggling after WWII, to establish a life and foundation for two boys(Duane and Greg), and then a turn of fate that leaves their mother, Geraldine Allman, left with the sole responsibility and desperation of raising two children in a post-war period of high un-employment. She must enter the workforce and learn a trade and raise two young boys in a society trying to re-form itself, as enlisted men by the hundreds of thousands are returning from Europe. Geraldine is thrown into the mix of a completely changed economy and social landscape in America. We, as readers, travel with the author during tumultuous times, as the two boys grow into young men, marked by a mother's determination. And then the awakening of a shared passion, from the first thrill of seeing BB King live in Nashville, in 1959, on stage, as the birth of rock n' roll and blues start to mix all around them. Bonding this drive is the instrument that Greg introduces to Duane, that will channel his energy and gift, to allow him to set down tracks with a collective host of who's who in r&b, rock and blues, culminating with stellar performances captured on "The Allman Brothers: Live at the Fillmore East" and "Layla" (for a full range of his recorded contributions, please seek out the 7 CD box set "Skydog: The Duane Allman Retrospective" released in 2013, co-compiled, co-arranged and co-produced by the author).
As I spoke with Ms. Allman recently, I was most directly struck by her vast thirst for musical knowledge. We talked about the affirmation of a wider circle of contemporary musicians influenced by the blending of rock, blues and jazz – characterized with extended soloing, exhibited so distinctly by her father, Duane Allman, and Dickey Betts, in the band's live performances. Contemporary guitarists and bands such as Trey Anastasio and Phish, Jimmy Herring and Widespread Panic and the Derek Trucks Band, founded by the exceptional slide guitarist Derek Trucks(also a second generation member of the Allman Brother's Band) – all continue to draw from, and mix, the extended jam as a tool for improvisation. I asked Ms. Allman to reflect upon some of the musicians that contacted her since the release of her book, and she picked a contemporary example, Nels Cline, the artistic and accomplished jazz/rock guitarist of Wilco. She shared Mr. Cline's connecting experience related to her father, "It's incredible how many young musicians are inspired by my dad, Nels(Nels Cline) reached out to me…loved the book…had a really emotional experience, he got to play the gold top, the Les Paul my father played(Mr. Allman's 57' Gibson Les Paul Standard gold-top guitar)and wanted to meet me and tell me about it." I could feel the conviction in her voice, as there can be no greater endorsement for a regarded musician, than for the next generation of players to still root out what you laid-down on the fret board of your guitar.
Ms. Allman sees clearly her father's force in music, carrying-on, having pushed the confines of rock and blues, exemplified in live performances like "Mountain Jam", "You Don't Love Me" or "Whipping Post", and creating opportunities for interpretations for fusion with jazz, bridging a gap for the next generation to cross-over. She talked with me about this subject; the next step in her father's musical direction, " There's no question that if my father had had more time than a few years – of his career – (He) definitely would have gone further with his wide range, incredible to imagine…he would have been an improvisational musician his whole life." The liner notes alone, on the back of the 7 CD box set of the Duane Allman retrospective, (mentioned earlier in this article and co-produced by Galadrielle Allman), speak to her father's reach and ability, from session work with Wilson Pickett, Aretha Franklin, and Boz Scaggs, to the open and complicated jazz-spirited Allman Brother's jams, and in particular the re-interpretation of Donovan's simple melody folk song "There Is A Mountain." Besides the brilliant lead tracks recorded with his band and all the myriad of other musical artists he played with, Allman was driving the vocabulary of the guitar towards a jazz-rock fusion door, and challenging other's to walk through it.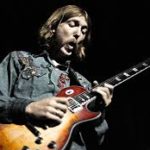 The respect afforded Mr. Allman is now made more potent, re-affirmed by Galadrielle Allman's intimate portrait. You come to appreciate her father's remarkable journey, and all the participants, intersections and interconnections made along the way of this intense life. We are at last shown a human-side; the extroverted, direct and driven personality, musical perfectionist and artist, straining with the demands and pace of performance and recordings – trying to steal a little more time. And behind the image, a man trying to face down the darker side of his own nature, mirroring Hendrix and Clapton, caught up in fame and its frantic orbit. Ms. Allman gives us back all these moments, so we can pause and reflect upon this rich timeline of events. But most importantly, and from a personal perspective, we are now given an opportunity to know him better, and that privilege is the true gift of Galadrielle Allman's "Please Be With Me: A Song For My Father".