Experimental jazz guitarist, composer and ensemble bandleader Mary Halvorson has evolved her individual style and pushed an incredibly varied direction in musical expression over the course of numerous projects since 2005. Finding significant critical attention in 2017, 2018, and 2019, by virtue of consecutive wins in DownBeat's International Critics Poll as Best Guitarist, Halvorson continues as a pioneering musical force. Covering genres ranging through acoustic instrumental, flamenco, rock, jazz, and intonations and effects of sound – she is truly an artistic explorer.
Kept from concert performances during the Covid pandemic in late '20 and all of '21, she had forced downtime to begin composing what evolved into two projects, now recorded, Amaryllis and Belladonna, on the Nonesuch label, released on May 13th. She performs both pieces as a set at Jimmy'sJazz and Blues Club in Portsmouth, N.H. on May 20th. WICN's contributing writer Doug Hall had the opportunity to speak with her about these combined projects and her thoughts on her compositional process.
These are excerpts from that conversation, recorded in early May 2022:
WICN: On May 13th, you will be releasing two related recordings, Amaryllis and Belladonna, on the Nonesuch label. How were these compositions formed and related to the musicianship and instruments used to explore them?
Mary Halvorson: The sextet portion of recording came first (during the Covid period of concert closings in '21). I was with a lot of people (musicians) who I wanted to work with more. Everybody was free this particular weekend, and I said "OK – I'm going to write a bunch of music" and then the gig got canceled because everything that year got canceled. But I was having so much fun writing the music and so excited about the group, that I just kept on going knowing I would perform it eventually.
So, I spent a long time writing the music and trying to envision how it would sound without having actually heard the band (perform the music). It was really more about the people (musicians) than the instrumentation. But I really enjoyed the idea of working with the vibraphone and trombone, which are instruments I write for less frequently than trumpet, bass, and drums. But I liked the idea intuitively of putting those two colors together.
Then the string quartet project (with Mivos Quartet) was something I always wanted to do, but it was somewhat intimidating to me. However, when Covid happened I suddenly had the time to study and research. I was reading orchestration books, taking some composition lessons from my friend and violist Jessica Pavone, and learning about how to write for string quartets.
These things were happening simultaneously, so I guess my brain somehow had just made sense of how to combine them into one large project. So, I started the string parts to the sextet music, in addition to writing a suite of music for just string quartet and guitar. And I guess I wrote myself into it because I wanted to be part of it. So that's the origins of these two combined pieces, which I spent part of 2020 and 2021 just writing and then finally did some rehearsals, performances and recorded in the fall of 2021.
WICN: Overall, with all the different musician group arrangements you've played with, be it guitar duets or your current recording of Amaryllis and Belladonna with the Mivos Quartet– does each ensemble offer you specific structures for the musical "sound" you wish to explore?
MH: I think I'm creating the structure and what the ensemble offers is a distinct pallet. Mivos Quartet is amazing, and I've heard them play so many different types of music. They interpret the music of lots of modern composers, can read anything, improvise, and they've played together so much they sound like one giant instrument. I had their sound in mind and then I was able to create something and begin to shape it. And that's the fun for me.
WICN: Listening to your compositional arrangements with multiple instruments, there often seem to be elements of classical music–for example, Flying Song from Belladonna, with yearning sounds on accompanying violins–how do you compose with these classical elements in mind?
MH: I would say that I try to compose being completely open to any type of musical influence. I try not to have something that fits neatly into a box. The classical influence for me, even though I studied jazz primarily, is certainly there going back to when I played violin as a child. Some of the earliest music I played was classical music. So, it's in there somewhere. I've played jazz, more experimental jazz, I've played in rock bands – I've played more folk-style music – so I'm kind of open to anything. But I think the project with the string quartet probably does have more of a "classical" influence just because of the nature of the instrumentation. And it's such a beautiful sound.
WICN: In what specific way does the guitar offer a primary voicing or range of sound or act as a lead instrument for your compositions?
MH: One thing I love about the guitar is that it's a shape-shifting instrument and I think of all those genres I mentioned, and the guitar fits in. You can play classical guitar; you can play rock and roll. Guitar is of course used quite a bit in jazz and folk music. So, you have this instrument that can find its way into many different spaces. I also like the duality of the acoustic and electric guitar. I play a big hollow-bodied guitar and I like to hear the resonance of the wood and the natural acoustic sound of the instrument.
But, at the same time, I use a lot of effects and I like to just distort and mutate the sound in a less organic way. The guitar can be a glue between these different spaces and different types of music. It's a good instrument to avoid being boxed in.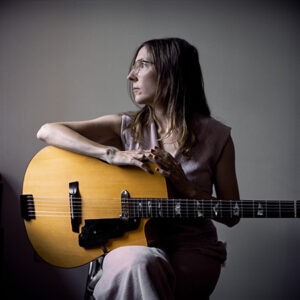 WICN: I recently interviewed modern experimental and jazz musician & composer Anna Webber, during her Artist in Residence at New England Conservatory in Boston. In her workshop she commented that "both composition and improvisation come from the same brain."
How do you view this relationship as a composer and performer?
MH: I would agree with that statement one hundred percent. My compositional process is pretty improvisational. It usually starts with me improvising on guitar and thinking about some idea I improvised and then putting it into a more formal structure. It's almost as if improvising IS composing – just a little more slowly and taking more time to craft something and hone it.
I think the two generally inform each other and would be true of music by Anna and myself – whereby we like to operate in spaces where both elements are present (improvisation and composition). In example, if I have some improvisation in a composition of mine, I want the composition to inform the improvisation. So, the improvisation is never just random.
It's hopefully related to everything that ties the composition together.
WICN: There's such a bold, exuberant adventure in your compositions and collaborations.
Is there, do you feel, a renaissance currently in musical exploration in jazz? With yourself and other artists that come to mind like Anna Webber, Craig Taborn, Marie Schneider, Darcy James Argue, and Marc Ribot?
MH: I love the list you gave because it's so very eclectic and it spans so many styles of music and I think that's probably the point. I feel like it's a particularly creative time, but at the same time – and this may be a copout – I feel like it always is. There are always people making great music, and if you scratch the surface and really just start to explore – you're going to see across so many styles, people making incredible music.
Recently, I've been working with a lot of younger musicians, and I really enjoyed that – just being there and experiencing what the younger generation is doing. And the older generation as well. And what's so cool about my profession is that I work with musicians in their 80s and all the way back to the musicians in their 20s. You get collaborations with people of different age groups, different styles, and coming from different cultural backgrounds. So. There's always so much (musical exploration).
Is this time particularly creative? It feels that way to me because I've heard a lot of inspiring stuff recently, but you could probably say that about anytime – there's just so much creativity happening.