As the first performers took to the stages (Fort, Harbor and Quad) artistic director of the Newport Jazz Festival, Christian McBride made his rounds to welcome the return of a sold-out several days of top tier jazz at Fort Adams in Newport. Having been hand-selected, in 2017, by founder, director, visionary and developer of the live jazz festival concept, George Wein, McBride has been a natural; combining roles as enthusiastic promoter, talent-seeker and often a performer at the Newport Jazz Festival. Always with a smile on his face, clearly George Wein has made the right selection to carry-on the tradition and to enlarge the audience of listeners.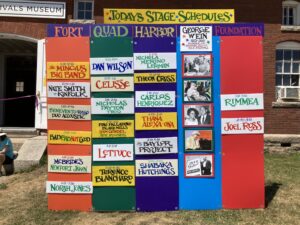 Wein's memory was there, in particular at the entrance, where his "Wein Machine", the golf cart, later in his life, that shuttled Wein from stage to stage, was memorialized surrounded by a ring of flowers. Even in his 90's, he still often took to the stage to introduce artists, upcoming and household names, with wit and sincerity. In 2018, introducing the then 79-year-old, legendary post-bop, renown innovator on tenor saxophonist and band leader, Charles Lloyd, Wein said, "well, it's nice to have some of these young kids still around to play."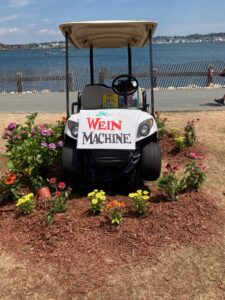 The founding legacy of this festival, as carried on by McBride, is the discovery of new talent. McBride related the passing of the baton from Wein, and his role and vision as artistic director, "not being about changing the template" that Wein had so successfully developed since the first Newport festival in 1954. McBride spoke of the importance of being at the forefront of emerging artists, to take advantage of that viewpoint, "like having a Triple A team of young jazz talent" and getting them on stage "so that by the time they get to the majors, I already know who they are."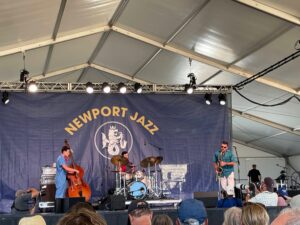 And there was no shortage of new faces again this year, from three gifted female jazz vocalists, Samara Joy, Lady Blackbird and Melanie Charles – who all delivered very distinct and interpretative singing styles. Joy, at 24, has been receiving noted attention and awards, sounding like a very young Sarah Vaughn or Ella Fitzgerald, as she covered the American songbook with delicate vocal range and included a tribute to her idol, Vaughn, with a version of "Can't Get Out of That Mood." Lady Blackbird, steeped in a European nightclub vamp and appearance with enormous white afro and transparent sequin blouse – took on love ballads and covered ranges of highs and lows effortlessly, at times channeling Tina Turner in bursts of refrain and outrage. Melanie Charles offered an African beat and accompanying chants – speaking and singing with vocal playback accompaniment. With her band in total sync, the ancient sounds, and instruments, from the earliest origins of music, were mesmerizing.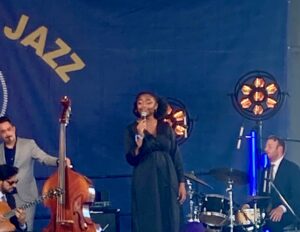 In the category of band-leading experimental jazz instrumentalists, stand-outs included tuba-virtuoso Theon Cross, co-founder of London-based jazz fusion band Sons of Kemet,(who also performed at the festival), bringing the bass and rhythm role to the forefront of the stage and owning his audience, Japanese jazz trumpeter Takuya Kuroda, blending a hybrid sound of soulful jazz, funk, post-bop, fusion and hip hop, and Cory Wong, Grammy-award nominated guitarist, bassist, songwriter, podcast host and producer. Wong played with both his bands, the Wongnotes and the Fearless Flyers, backed by a commanding five-man horn section. With a major following on YT, Wong has experimented with a "variety show concept" of performance, engaging the audience in banter but backed-up by an un-relenting brass section as he shows-off his mastery of funk and fusion on guitar. Also, considered a prodigy, jazz pianist Emmet Cohen led his trio through his nimble keyboard touch and harmonic vocabulary of a very tight set of mostly original material. Cohen, like Wong, is reaching audiences through on-line performances (Live From Emmet's Place), a master-level teacher, and also involved in out-reach programs such as the Lincoln Center's "Jazz for Young People."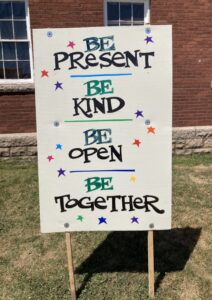 The Big Bands were on display with a force of their own. Charles McBride brought his hand-picked band for the festival, McBride's Newport Jawn, including hard-charging jazz drummer (and band leader) Makaya McKraven, veteran jazz-fusion guitarist Mike Stern, intellectual pianist master Vijay Iyer, internationally renowned saxophonist and multi-instrumentalist Chris Potter, and international award-winning female harpist Brandee Younger. McBride joked on stage about the talent-stacked line-up with him, "Well, this is one of the perks of the job – I get to choose the cats I want." Playing to the band's individual strengths, McBride not only delivered a stunning stand-up bass solo, but let loose Stern on long spacy trips of jazz fusion instrumentals, and then handed off to Potter on sax and later Iyer on piano for intense, innovative leads. Some Big Band standards delivered the full ensemble sound, but also a beautiful and intricate version of Coltrane's "Africa."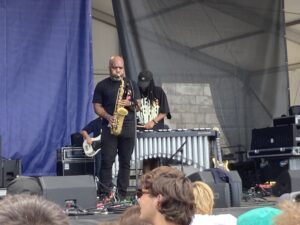 Back again, The Mingus Big Band, reminded jazz listeners of the awesome compositional talent and power of jazz giant Charles Mingus. With a dedication to keep his music alive and in front of an audience, their performance was swinging hard. Blistering solo efforts were offered from the sax section, in particular baritone sax extraordinaire Scott Robinson, with trumpet and trombone featured as well, all with driving rhythm accompaniment on piano, bass, and drums. Covering several of Mingus' most integral compositions, including "Fables of Faubus", "Better Git It in Your Soul" and a piece from the monolithic 3-hour composition "Epitaph", the band delivered a set that re-emphasized the relevancy of this modern master. 
Also, drummer-bandleaders were on tap for the festival, with notable tour de force jazz percussionist Makaya McKraven, (also performed earlier with McBride's Newport Jawn) featuring several cuts from his forthcoming release In these Times. With saxophone, vibraphone, and harp accompaniment, McKraven mixed up the tempo adding soul with melody and fireworks as band leader on drums, often times intensifying the pace and directing players to match him. Nate Smith & Kinfolk, led by international drummer and jazz bandleader, performer, and composer for two decades, Nate Smith – he transcended bebop, hip-hop and created an intense groove for his musicians to play over. A youthful pianist (piano, Fender Rhodes) sounding Corea-like with heavy chords (Jon Cowerd), melodic guitarist with impeccable scales(Brad Allen Williams) and bright and fluid vibes from Joe Ross, straddled R&B with jazz, and occasional soulful support vocals from Amma Whatt. BadBadNotGood, a Canadian instrumental band, (also having the most original funky name for the festival) is another cross-over success, with drummer Alexander Sowinski firmly in place, driving the beat with a twisting, turning genre-bending sound. Explosive and edgy, the audience didn't know what to expect next. A young team of players on sax (Leland Whitty), bassist thumping and pounding rhythm(Chester Hansen) and an especially gifted keyboard player, Matthew Tavares, took turns moving the melody from hip-hop to Pink Floyd-dream theme to haunting spacey psychedelia.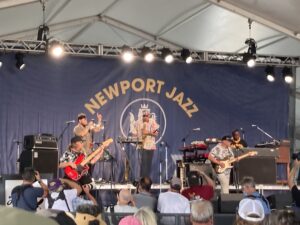 The main anchors of name recognition were Norah Jones, Terence Blanchard, and Cécile McLorin Salvant, all delivering to expectant, enthusiastic crowds that left standing room only at the stages of each these performances. Multi-Grammy award winning pianist and singer Norah Jones' worldwide popularity drew a huge audience of fans in the 90-degree heat, offering a jazzy and interpretive signature voice that was incredibly strong yet soft, clear, and gorgeous.
Salvant's set was impeccable both in the voicings and effortless range of her pitch and tone. Including guitar ace Mavin Sewell and her familiar and extraordinary virtuoso pianist Sullivan Fortner, Salvant used storytelling, animated facial expressions and accompanying vocal techniques – operatic-like, to enthrall and emotionally move the audience. Expanding her stylistic form, she covered Kurt Weill's Threepenny Opera "Barbara Song" and her own "Obligation", with an overtone of forlorn love.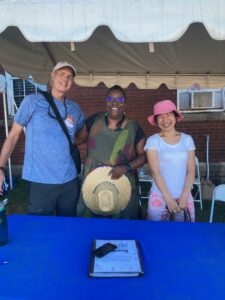 Fittingly Wein's tribute finished the festival's weekend, at the end of the day on Sunday, July 31st. Though it was an all-star line-up, the musicians were taking the stage to truly recognize and appreciate Wein's contribution to their careers and the performance opportunities provided by this festival over decades. As Wein's spirit was still felt throughout the 3-day festival, the finale intergenerational all-star jam covered songs that remembered Wein and were some of his favorites, including "Over The Rainbow", "On the Sunny Side of the Street", "St. James Infirmary" and "Jitterbug Waltz." Alternating taking the Fort stage were Joe Faddis and Randy Brecker on trumpet, Lew Tabackin on tenor sax, Anat Cohen on clarinet, Christian Sands on piano, festival artistic director Christian McBride on bass, and Lewis Nash on drums. Jay Leonhart replaced McBride on bass for surprise guest Cecile McLorin Salvant's vocal contribution. "She(Salvant) was followed by piano virtuoso Hiromi, who walked onstage holding up a sign saying, 'Thank You George,' then performed unaccompanied, smiling at the audience periodically as she blazed through astonishingly difficult flurries of notes."
Wein would certainly have been smiling.