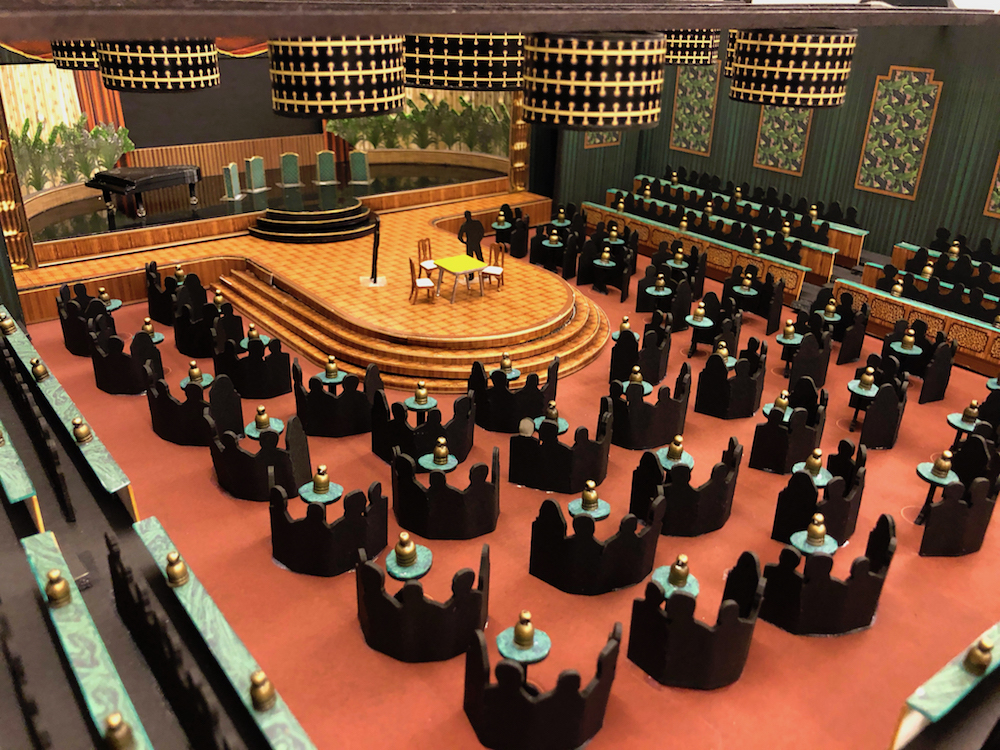 On May 11-20, 2018, the Boston Lyric Opera will premiere a new pairing of two Leonard Bernstein one-act operas: 1952's "Trouble in Tahiti" and 1988's "Arias and Barcarolles".
The music and arias are enough to grab your attention with the "B" name associated. But the added element of surprise up BLO's production sleeve is a production with a physical set that will dazzle its audience with the splashiest, elaborate and eye-catching glitz of a 1950's era nightclub. Most amazing of all, from a set and stage production challenge, is that all of this transformation is taking place in the DCR Steriti Rink on the North End Waterfront of Boston.
In Bernstein's social piece about marriage, disillusionment and reckoning of the "American Dream" in the post WWII suburban lifestyle, the plot remains current and the opera score is never out of style. Both operatic compositions("Trouble in Tahiti" and "Arias and Barcarolles") deal with the currency of love, the cycle of relationships and revelation that only time and age can offer. These are themes presented in modern dramatic theater, but Bernstein's libretto is more personal, " There aren't many operas about suburban families and some biographers have suggested that Bernstein's choice of subject matter was rooted in his own experiences."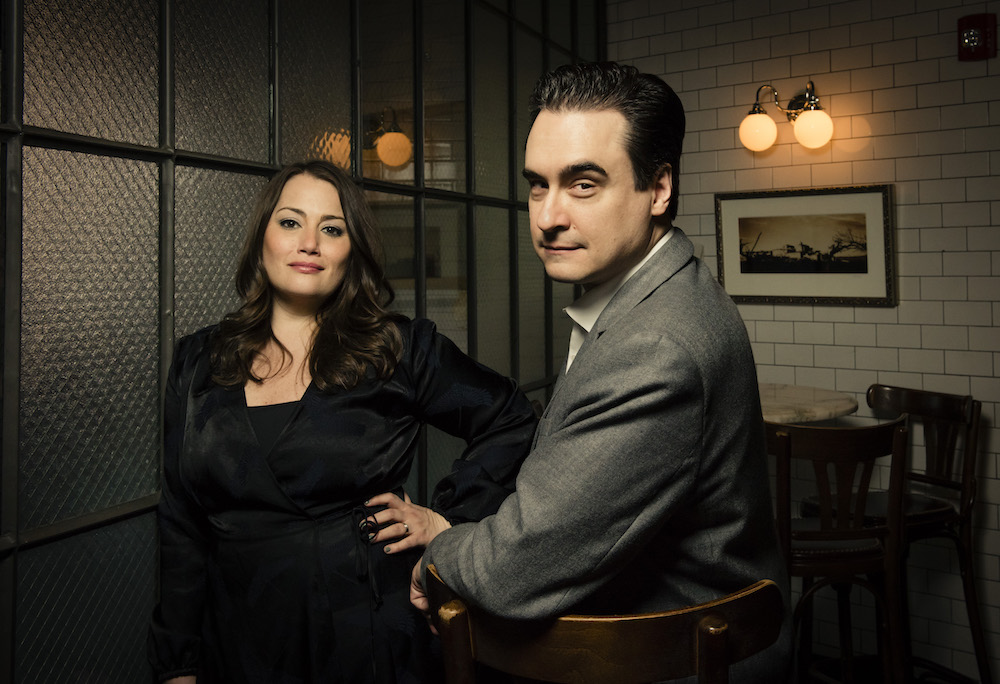 In contrast to the "darker" material, the music is a mix of familiar Bernstein styles, " combining jazzy elements heard in his "On the Town" score and with the grand sweeping melodies of "West Side Story" and played in BLO's production team of by a seven-piece ensemble. But the production team,  Anna Labykina(production and technical director), David Schweizer(stage director) and Paul Tate Depoo III (set designer) also saw their challenge in creating the experience with the physical transformation of non-theater environment. As stated by Ms. Labykina, "the creative team is very excited by the  possibilities of enclosing the cavernous space(Steriti Ice Rink) into an intimate salon evoked by the music."
To look at the before and after pictures at BLO's website, showing a BLO cast in rehearsal in this same space for "Carmen"(Fall of 2016), and then to see the metamorphosis to an El Morocco-inspired nightclub for the "Trouble in Tahiti/Arias & Barcarolles", the visual achievement is stunning. Picture the bear gray cement walls of an ice rink, the flat-bed floor surface(without the hockey-check boards), the hanging utility lights, the exposed ceiling metal-grid framework and your imagination has to be very powerful to see what would become an incredible and radical change. As explained by Anna B. Labykina, BLO's Production and Technical Director, the cavernous shell was only an opportunity, "We were NOT disappointed…after all a completely open space is a carte blanche. It's as if the rink itself was saying to the creative mind: please shape me in any way you'd like, hang any drapes and lights and walls, and make me your own."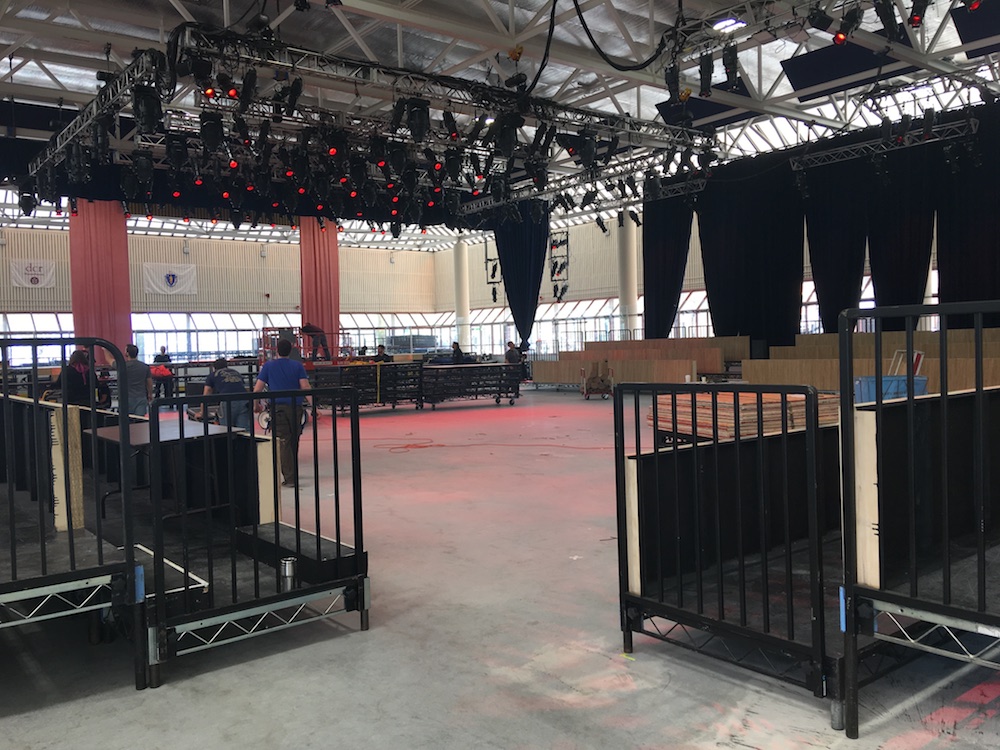 The physical space also offered up the opportunity to include the  audience, not just as viewers but as actually night club goers in the performance environment itself. In a very direct sense,  those watching the performance are also being a part of the physical set. Ms. Labykina speaks to this set and stage direction, "the design team knowing the amount of space available to them, took that as a cue to set-up this relationship of the stage space and the audience."
This moment of stepping back in time is further enhanced and created by Somerville-raised, set designer Paul Tate DePoo II, evoking Manhattan's popular 1950's nightclubs, down to the fine details, " individual lighting on floor tables and along tiered seating drink rails provides a cozy experience. The design's green and gold color palette, spiked with tropical florals, plays out on the set and seating design, and the chandeliers hang above the action and stage." This attention to these staging elements will clearly bring the audience into the moment and time period of the operatic piece.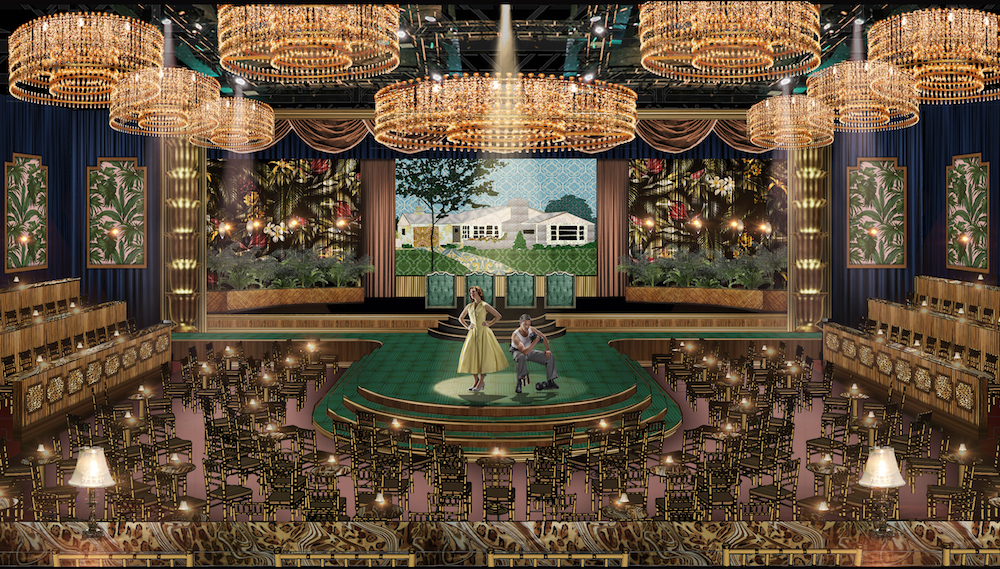 Following-up with this period setting for "Trouble in Tahiti", the "Arias and Barcarolles" is a song cycle that "jumps stylistically…from twelve-tone scale, to jazzy scat, to pop, to klezmer – over a 30-minute duration." Bernstein's music will match tempo with set, as a seven-piece band and four-hand piano will be centrally featured" Coupled with the orchestra in white dinner jackets, the atmosphere of the evening will be complete.
Come be transformed by the 1950's nightclub scene and for an evening pretend you are in post WWII Manhattan, at the Copacabana for instance, with a cocktail in hand enjoying the ever-modern operatic score and reflect on a time when the American Dream was in front of you. With or without a "perfect" suburban backdrop to your life, share and reminisce, as the un-folding drama of young love and marriage with its doubts of the expected future hopes and dreams, happiness and fulfillment of this couple are put to a wonderful score of Bernstein music. What better way to ride out trouble in paradise?